According to some reports, the NFL is overdue for a determination on Aldon Smith's status. It has been said that the NFL has to decide within 60 days on a player's application for reinstatement after violating the substance abuse policy and it has been more than two months since Smith filed the necessary paperwork. However, there is no deadline for the league to reach a decision on the Raiders linebacker, an NFL spokesman tells Mike Florio of PFT.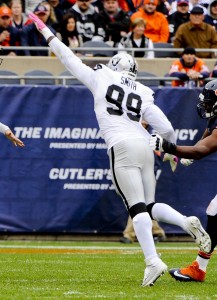 [RELATED: Aldon Smith Pushing For Return]
"No. All parties make every effort to be in a position for the league to make a decision within 60 days. Every step of the process must be completed," the spokesman wrote in an email.
Smith applied for reinstatement 65 days ago, so the league apparently contends that they have made "every effort" to give the situation some closure, but they have yet to tie up all of the loose ends. Ultimately, the two sides may have different interpretations of the substance abuse policy's Appendix B:
"All individuals involved in the process will take steps to enable the Commissioner to render a decision within 60 days of the receipt of the application [for reinstatement]."
The union may read that as a firm 60 day deadline for a decision while the league sees more flexibility in the language. The Raiders are eager to get Smith back on the field, but they may have to wait while a chess match is played out at 345 Park Avenue.
Photo courtesy of USA Today Sports Images.
Follow @PFRumors