There was "widespread belief" around the NFL in September that the Rams and contract-year head coach Jeff Fisher had agreed to an extension. Almost three months later, the Rams still haven't announced an agreement with the beleaguered Fisher, whose 4-7 club is on track to finish with a sub-.500 record under his watch for the fifth straight year. Despite Fisher's lack of positive results in his nearly half-decade-long tenure with the Rams, his job is safe, chief operating officer Kevin Demoff implied to Steve Wyche of NFL.com earlier this week.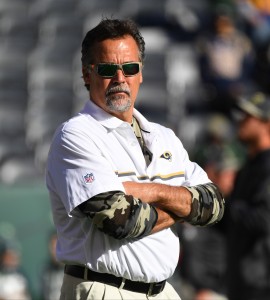 "Everybody will want to judge Jeff through the prism of just the record, but that's totally unfair when you look at the set of circumstances he was handed this year. It was different than any team in the NFL," said Demoff. "The past two years, he's had to deal with the specter of relocation. This year, the actual relocation. A couple of coaches have had to deal with the specter of relocation. No coach has had to deal with an actual relocation. You have try to understand what this team has been through and the success he has had."
Fisher, meanwhile, isn't worried about his status, and he also cited the unusual circumstances of relocating from St. Louis to Los Angeles.
"I'm not concerned about my job. I have a great relationship with [Rams owner Stan Kroenke]," Fisher told Alden Gonzalez of ESPN.com. "He understands the difficulties that were placed on this organization as far as the move is concerned. And I'm moving forward optimistically with this team."
Fisher is a "terrific leader of men" who has "done a model job," according to Demoff, even though he hasn't posted a winning season as an NFL head coach since 2008 – his penultimate year in Tennessee. In 17 years with the Oilers and Titans, who moved from Houston to Memphis to Nashville with Fisher, he went 142-120 with six playoff appearances and a Super Bowl berth in 16 full seasons. He's at 31-43-1 with the Rams, though there could be reason for long-term hope with Fisher having given the starting quarterback job to No. 1 overall pick Jared Goff late last month. Goff, who sat behind journeyman Case Keenum for the Rams' first nine games, has been a mixed bag in his first two starts. In total, the ex-Cal star has completed 37 of 63 passes for 348 yards, three touchdowns and an interception.
With the Rams set to face the Patriots, Falcons and Seahawks over the next three weeks, odds are they'll be 4-10 with home meetings against the NFC West rival 49ers and Cardinals remaining. Regardless, the rest-of-season results seem unlikely to affect Fisher's standing with the franchise.
Photo courtesy of USA Today Sports Images.
Follow @PFRumors