Throughout his entire career, Steve Smith has defied the odds and even defied his age. But, every player has to call it quits at some point. Smith heavily indicated to reporters today that Sunday will be his final game in the NFL.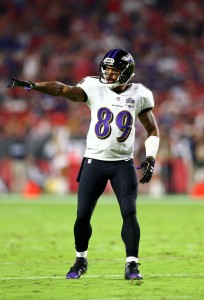 "I'm about 89 percent sure," Smith said, making reference to his jersey number as he has many times in the past (link via Jamison Hensley of ESPN.com). "I'm pretty sure I know what I want to do. I've got great support from my family, my wife supports me whichever way I want to go. My boys want me to still play, but there's a little girl, my baby who wants her daddy. Football is a conduit, something that gives you a platform, good and bad, but it gives you an opportunity. Football has given me more than I probably could give football back. . . . This is probably my last game."
Smith, 37, was emotional as he discussed the likely end of his career. If Sunday is in fact his last hoorah, he'll leave the game as one of just eleven players to have 1,000+ catches and 14,000 yards receiving.
As a third round pick in 2001, no one could have predicted the kind of career that Smith would have. The wide receiver became the face of the Panthers' organization in his 13 years there and he played with a chip on his shoulder upon joining the Ravens in 2014. In his age-35 season, he caught 79 passes for 1,065 yards and six touchdowns, silencing doubters who thought his best days were behind him. He lost most of the 2015 season to injury, but he rebounded nicely this season as he caught 67 passes for 765 yards and five scores.
Smith will leave the game as a five-time Pro Bowler and a two-time First-Team All-Pro selection. His legacy of tenacious play coupled with his gaudy stats should make him a strong candidate for the Hall of Fame. We here at PFR wish No. 89 the best in retirement.
Photo courtesy of USA Today Sports Images.
Follow @PFRumors