A.J. McCarron's tenure with the Bengals could be coming to an end. The backup quarterback told Jim Owczarski of Cincinnati.com that he wouldn't be surprised or disappointed if he was traded this offseason.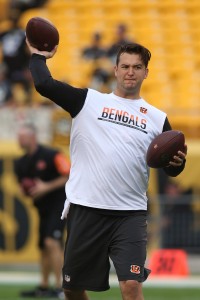 "Now, it's nothing I can do," McCarron said. "I try not to worry about it. You're always gonna think about it. I'd be lyin'; whoever told you that I wouldn't, or if they were going through the same situation, you're going to think about it. Because you want to play as a competitor. I'll let my agent handle everything and go with whatever he says."
Despite having been in the organization for the past three years, the signal-caller indicated that he wouldn't be upset if he was dealt elsewhere.
"No," he said. "I definitely wouldn't be distraught at all. Like I told Marvin (Lewis) and all my coaches in my exit meetings, I appreciate everybody in this organization. I really do. From the bottom of my heart. They gave me a chance when a lot of people wouldn't."
McCarron joined the organization as a fifth-round pick in the 2014 draft. The former Alabama standout had to sit out his entire rookie campaign as he recovered from a shoulder ailment, but he got several opportunities in 2015 when starter Andy Dalton went down with an injury. In the final four games of that campaign, McCarron threw for 832 yards, six touchdowns, and only two interceptions. The quarterback also got a playoff start that season, throwing for 212 yards, one touchdown and one interception in a Bengals' loss to the Steelers.
The team got 16 games out of Dalton this season, and McCarron didn't see the field as a result. Dalton inked a pricey six-year extension with the franchise in 2014. Since the red-head will be starting for the Bengals for the foreseeable future, it's no surprise that McCarron would want an opportunity to start elsewhere.
Furthermore, McCarron could be an attractive trade target for teams that aren't looking to invest big money in a quarterback. The 26-year-old will be entering the final year of his contract next season and is only owed $735K.
Owczarski believes the team's claiming of rookie quarterback Jeff Driskel could be an indication that they'll shop McCarron this offseason. The third-year pro also recognized that the transaction was a sign that he could be shopped.
"As a quarterback, you understand something might be happening and they're trying to find somebody they're possibly comfortable with. But you never know," McCarron said. "Especially during the season, I don't ever think about those things. I just don't put my mind on it."
Photo courtesy of USA Today Sports Images.
Follow @PFRumors