This will be a critical offseason for the Vikings and general manager Rick Spielman. After starting the season with five straight victories, the Vikings went 3-8 the rest of the way. This was the team's third playoff absence since Spielman took over in 2012, with the Vikings haven't advanced past the wild card round during their two postseason appearances.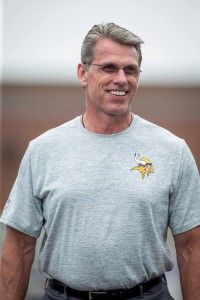 Besides the motivation to transform the team into a playoff contender, the Vikings will also have to make tough decisions on their handful of impending free agents. Sid Hartman of the Minnesota Star Tribune notes that the team has 14 players who will hit free agency, including cornerbacks Captain Munnerlyn and Terence Newman, running back Matt Asiata, linebacker Audie Cole, tight end Rhett Ellison, offensive tackle Matt Kalil, and wideout Cordarrelle Patterson.
Spielman talked to Hartman about his preparation for the offseason, his evaluation of this year's draft class, and Adrian Peterson's NFL future. The whole article is worth reading, but we collected some of the notable quotes below.
On the front office's preparation for the offseason:
"We started our process last week, met with all the coaches and the scouts. We kind of went through our personnel, where we're at, we identified our needs, and we'll start over the next month here putting together our game plan on where we can attack to fill those needs, whether it be free agency or we have to wait through until the draft. There are going to be some things that can happen."
On how the front office will evaluate ways to improve the roster:
"The most important process is to be honest with yourself on where your roster is and be honest on the type of personnel. Then once you identify those needs, and we do it where the coaches are involved, the scouts are involved, and then I'll sit with Coach [Mike] Zimmer, [Executive Vice President] Rob Brzezinski, [assistant GM] George Paton, and we'll finalize our game plan and get ready to improve the roster."
On running back Adrian Peterson's future in the NFL:
"I think Adrian will always defy the odds. He got hurt this year, but I still think he has a lot of football left in him. Those will be some of the tough decisions we have to make, and what you do is when you go through this process you're trying to weigh in where are you going to put your resources and financially where are you going to spend your money.
"We have a lot of young guys coming up this year. I think Xavier Rhodes is an extremely talented young player that we're going to have to be mentally prepared to address his contract. Those decisions will be made once we get through the free agency and draft meetings. But I think Adrian Peterson has football left in him."
On the team's draft strategy:
"We have eight draft picks going into this draft, my goal was to have 10 or more by the time we get out of this draft. I do think we have to replenish our roster with some youth. Last year we signed a lot of our players back, a lot of free agents back on the roster, and this year I know we're going to have to get some of the younger players going. This new class coming in, from a draft standpoint, will be a part of it as well."
On his early evaluations of the draft class:
"We had our first meeting in December, and then our scouts will be coming in in a couple weeks and head down to the Senior Bowl. I saw most of those kids that are going to be in the Senior Bowl, but I think offensively the two strongest positions — and I don't know all the juniors that are coming out or who's staying or going and that won't be decided for a couple weeks — but it looks like an extremely strong running back class. I think the tight end class is going to be extremely strong.
Photo courtesy of USA Today Sports Images.
Follow @PFRumors