Former NFL quarterback Vince Young has hired veteran agent Leigh Steinberg, who earlier today tweeted that Young has a "dream of playing more football."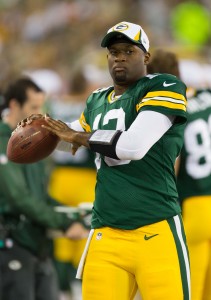 As Michael David Smith of Pro Football Talk notes, the word "dream" seems to be the operative word in Steinberg's tweet, especially given that Young hasn't attempted an NFL pass since the 2011 season. That's not meant to sound callous, but instead represents just how difficult it will be for the now 33-year-old Young to return to the NFL
Young, a former third overall selection, signed with the Eagles in 2011 after five seasons in Tennessee, and managed to complete 63 passes for Philadelphia during his one season with the club. Over the next three years, Young had short-lived offseason stints on the Bills, Packers, and Browns rosters, but never made it to the regular season with any team.
After formally announcing his retirement nearly three years ago, Young attempted to attend the NFL's veteran combine in 2015, but was rejected. Earlier this year, the nascent Spring League invited Young and other former NFL players to join its emerging ranks, as Mike Florio of Pro Football Talk reported at the time.
Photo courtesy of USA Today Sports Images.
Follow @PFRumors