There's more of Eddie Lacy to love and although the Seahawks say they're not sweating it, they have given their newly-acquired running back some incentive to keep the extra pounds off off. Lacy's one-year deal with the Seahawks includes a $385K bonus tied to his weight, Tom Pelissero of USA Today tweets. All in all, his one-year deal calls for $2.865MM guaranteed, but he can raise that to $5.55MM through the weight bonus and other incentives.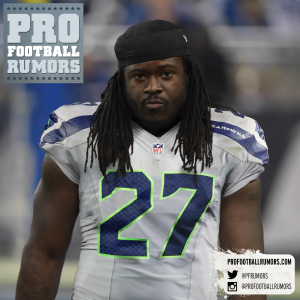 Lacy reportedly weighed in at 267 pounds on one of his free agent visits this year and that's a bit concerning for a running back. Last year, Lacy was listed at 234 pounds. Seahawks coach Pete Carroll chalked Lacy's weight up to his ankle injury from last season and said that he expects Lacy to slim down once he's back to 100%.
Still, Lacy was struggling with his weight before his injury last fall and the Seahawks are going to be mindful of his size. On top of his one-year, prove-it deal, Lacy has additional motivation to stay in shape.
Photo via Pro Football Rumors on Instagram.
Follow @PFRumors