Tom Coughlin's return to Jacksonville may encounter some mild turbulence this offseason. A letter from the new Jaguars executive VP to several players is now the subject of an NFLPA investigation, with Ryan O'Halloran of the Florida Times-Union reporting a possible CBA violation occurred this month.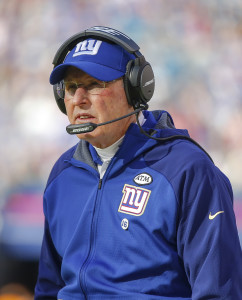 Coughlin sent a letter to several Jaguars players currently under contract saying they needed to report to the team's facility for a physical earlier this month. However, the Jags do not begin their offseason program until April 10, and multiple sources informed O'Halloran the league's CBA does not permit this request.
A player who does not live in Jacksonville who balked at paying his own travel expenses to return for this surprise request is believed to have notified his agent, who then alerted the NFLPA, per O'Halloran. Jags players are not allowed at their facility until that April date. Several players, though, were advised by their agents to follow through with the physical even as the investigation transpires. O'Halloran reports a possible punishment for the franchise will be the forfeiture of an OTA this spring.
This potential violation, though, does not appear to be as severe as the one the Ravens were found guilty of last year. Baltimore had to forfeit a week's worth of OTAs for its practice-related infraction last year. The Seahawks and Falcons will also have fewer than the allowed 10 OTA sessions this year due to violations.
Photo courtesy of USA Today Sports Images.
Follow @PFRumors