This offseason, the Jets' resource limitations kept them from pursuing quarterbacks like Kirk Cousins and Jimmy Garoppolo and keeping up with the bidding for free agent Mike Glennon. As their options dwindle, a new name could emerge as a possibility. The recently-released Robert Griffin III is interested in playing for the Jets, a source familiar with the situation tells NJ.com's Connor Hughes. It's not immediately clear whether that interest in being reciprocated at this time.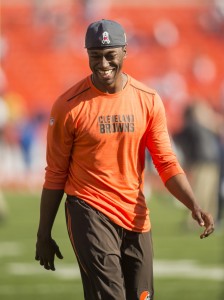 Last year, we know that the Jets did have some level of interest in RG3. He was brought to Florham Park, New Jersey for a visit and he enjoyed his trip there, according to the source. Griffin, 27, looked like he was a rising star early in his career. As time went on, however, injuries slowed him down and his relationship with team brass in Washington became toxic. He went to Cleveland in search of a fresh start, but he was once again dogged by injury. He left the Browns after appearing in just five games for them in 2016.
Now, RG3 is looking for Act 3 of his career. And that could go down in New York, if the Jets feel that he is among their better options right now. All we know right now is that the Jets are thinking about signing Jay Cutler and Tony Romo won't be an option of them for a number of reasons. If RG3 isn't to their liking, they'll be left to sift through a lot of QB2 types on the open market, including their own free agent Geno Smith.
Right now, the only quarterbacks on the Jets roster are Bryce Petty (who shares an alma mater with RG3) and Christian Hackenberg.
Photo courtesy of USA Today Sports Images.
Follow @PFRumors