The Redskins are operating in Indianapolis without their general manager, with Scot McCloughan's absence from the Combine being attributed to the death of his grandmother. However, agents of free agents — ones representing Redskins UFAs and some who represent other teams' recently expired contracts — are questioning the stability of the organization, Mike Jones of the Washington Post reports.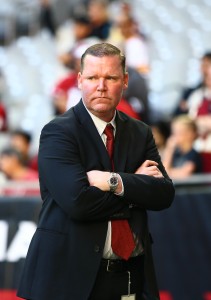 Said agents and other league insiders wondered if there was more to McCloughan's absence than the team is letting on, and some are taking this as a sign to steer their clients away from Washington. One agent likened the Redskins to being in "disarray" and was wondering who was calling the shots for the franchise presently. "I'm not exactly sure who's in charge over there now," an agent told Jones.
The uncertainty surrounding McCloughan's standing within the organization will prompt two agents who represent big-name UFAs from other teams to advise those respective clients to avoid signing with the Redskins, Jones reports. However, multiple agents told ESPN.com's Adam Schefter they've been in contact with McCloughan recently.
Prior to this absence, McCloughan was not permitted to talk to the media at the Senior Bowl. And Jones reported in February team president Bruce Allen was applying pressure to the third-year Washington GM to focus on repairing the team this offseason. Missing the Combine raises the degree of difficulty regarding that task. Allen, though, said this week that McCloughan could resume draft preparation next week.
Jones notes the Redskins are likely to focus on second-tier free agents who won't be as selective as the marquee names, possibly minimizing this distraction. Regarding their own UFAs, multiple people familiar with the Redskins' free agency plan indicated to Jones that both Pierre Garcon and DeSean Jackson will price themselves out of D.C. Garcon could earn between $7-$10MM per year, Jones notes, while Jackson's annual value may head toward $12MM. A Garcon return has league insiders split, with some saying he will test the market and others indicating the Redskins will swoop in early next week with an attempt to retain him. The team hasn't met with Garcon yet, though.
Photo courtesy of USA Today Sports Images.
Follow @PFRumors