In a shocking development, former Patriots tight end Aaron Hernandez committed suicide in prison earlier this morning, report Aimee Ortiz and John R. Ellement of the Boston Globe.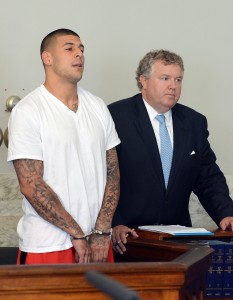 "Mr. Hernandez was in a single cell in a general population unit," according to a statement from the Department of Correction. "Mr. Hernandez hanged himself utilizing a bedsheet that he attached to his cell window. Mr. Hernandez also attempted to block his door from the inside by jamming the door with various items."
Hernandez, of course, was serving a life sentence for the murder of Odin Lloyd in 2013. But he had recently been acquitted of another double murder committed in 2012. Hernandez was not on suicide watch as he'd given no signal that he was intent on harming himself, per the Boston Globe scribes, and no suicide note has yet been discovered. An investigation into the incident is still ongoing, however.
Hernandez's death brings to a close one of the larger recent tragedies in the NFL sphere. Hernandez shined during his three seasons with the Patriots, and even secured a $40MM contract extension with the club. He was quickly released after the Lloyd murder investigation, began, however, and had been in custody ever since. Hernandez was 27 years old.
Photo courtesy of USA Today Sports Images.
Follow @PFRumors