Pro Football Rumors recently launched an official Instagram account (@ProFootballRumors) and it's a must-follow for NFL fans. Each day, we share conversation-inspiring images about the hottest topics in football. From there, we invite you to give us a like, weigh in with your thoughts in the comments section, and even share the link with a friend.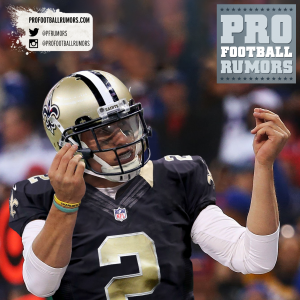 With the NFL Draft around the corner, we'll be doing some speculative jersey swaps on potential picks. Popular thought has the Browns taking Texas A&M star Myles Garrett No. 1 overall and we have to admit that he looks good in Cleveland gear. If the Browns select UNC quarterback Mitch Trubisky at No. 12, we can assure you that his guns will pop in a Browns cutoff.
Yearning for a preview of Marshawn Lynch in Raiders' silver and black? We've got you covered. We also did jersey swaps on Adrian Peterson with the Raiders, Packers, and Patriots, though at least two of those clubs probably won't be in the running for him at this point. And, if you want to know what Johnny Manziel would look like in a Saints uni, we've got that too.
If you're not already, follow Pro Football Rumors on Instagram today!
Follow @PFRumors