We learned back in May that the NFLPA's board of representatives had approved a plan that would set aside millions of dollars into a "work-stoppage fund," allowing the players to make some money if an NFL season is cancelled or delayed. Now, it sounds like the Players Association wants the athletes to start saving up their own personal money as they prepare for a potential lockout in 2021.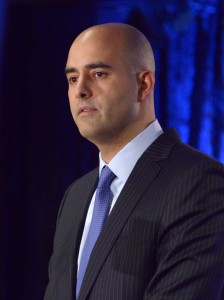 "We wound up in a situation where unfortunately [savings] didn't happen across the league as much as it could have happened," spokesman George Atallah recently said on SiriusXM NFL Radio (via Mike Florio of ProFootballTalk.com).
"In 2009, we were faced with a major sort of signal that the owners were going to try and lock players out. We were trying to get as many players prepared as possible. . . We need players of every generation to really help the young guys understand what it takes to go through some labor strife. For the players who went through it in 2011, the union administration and player leadership did everything it could to prepare players across the league. I think it needs to happen again with the same sort of fervor."
This game plan is easier said than done. Florio notes that a solid portion of the potentially impacted players are currently in college or high school. Therefore, it might be especially unrealistic to expect these kids to be financially conservative after they finally sign their first NFL contract.
Alternatively, Florio suggests that the NFLPA could find a clever way for players to make money during a potential lockout, thus providing them with some leverage as they're negotiating with the league. There were talks in 2011 of unaffiliated exhibition games, and the writer believes the players should start the process of determining these specifics now (as opposed to down the road).
The union already has more than $314 million in net assets, and that doesn't account for the $90MM they're expecting from that previously-mentioned "work-stoppage fund." 2016 royalty money will still be handed out to players this fall, with the "equal share" starting to see an impact for the 2017 campaign
The NFL has reportedly approached the NFLPA regarding a renegotiation multiple times, but to no avail. "Stadium credits" will surely be atop the list of sticking points, along with how money is allocated via the lucrative television deal. Offseason practice rules and Roger Goodell's "authority over discipline" will also presumably be discussed.
Photo courtesy of USA Today Sports Images.
Follow @PFRumors