Greg Olsen has outperformed his contract and he would like a new one. The Panthers tight end, signed through 2018, wants a deal that would pay him like a top tight end in the NFL, sources tell Joseph Person of the Charlotte Observer.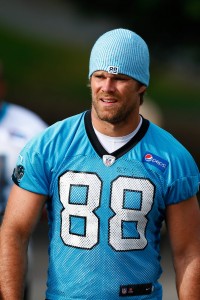 Prior to the 2015 season, Olsen agreed to a three-year,$22.5MM extension with $12MM guaranteed. Since then, Olsen has turned in two 1,000+-yard seasons, making it three in a row. His cap numbers of $10.35MM and $9.75MM in the next two seasons are nothing to sneeze at, but it's easy to understand why Olsen is looking for a revised deal now instead of waiting two more years.
Olsen currently stands as one of the league's best tight ends, but he'll turn 34 at the start of 2019 free agency. The Panthers don't necessarily want to rework Olsen's deal at this point, but they might be willing to do an extension that will smooth out Olsen's cap hits over the next two years while giving him some guaranteed cash in additional seasons. It might also behoove Carolina to keep one of its biggest stars happy, though Olsen isn't the type to make a stink over his contract. Even as he discussed his desire for a new deal, Olsen was nothing but polite.
"In the ideal world, that'd be great," Olsen said when asked about getting a reworked contract. "I'm very confident on where I stand in the league and where I belong. Both productivity and all things considered, there's nobody that's been more productive or more consistent than I have. And I'll stand on that until the cows come home…You can make of that what you may. I feel comfortable with where I belong, and hopefully other people do, too."
Olsen's $7.5MM per-year average makes him the seventh-highest paid tight end in the NFL, according to Over The Cap. Meanwhile, he's 12th among TEs when it comes to guaranteed money.
Photo courtesy of USA Today Sports Images.
Follow @PFRumors