Kyle Shanahan lost out to Vance Joseph when the Broncos chose a coach to replace Gary Kubiak in January. But Shanahan ended up in San Francisco, and the first-year HC said during the 49ers and Broncos' joint practices he sensed he wouldn't get the Denver job.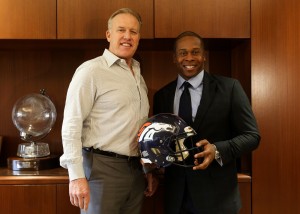 "I just had this gut feeling that I wouldn't," Shanahan said, via Nick Wagoner of ESPN.com, of his chances at becoming the Broncos head coach. "I went into the interview, I really enjoyed it, meeting with those guys. I hadn't seen them for a while. But yeah, I never felt like it. I felt after the interview I made it hard on them, but I always had a feeling that I wasn't."
Elway played for Mike Shanahan for most of his career, when Shanahan was an assistant or during the four years he coached Elway as Denver's HC. While the Broncos GM passed on bringing Mike's son into the fold, Elway said the then-Falcons OC "wasn't far behind."
"His knowledge of the game is as good as there is in the league. It's just a matter of finding the right fit," Elway said. "I'm very happy with Vance, but Kyle wasn't too far behind just because he has that knowledge. There's no doubt in my mind he's going to have a lot of success in this league."
Due to the ties he had growing up in Denver, Kyle Shanahan ended up with a slight sense of relief he didn't get the Broncos job. The younger Shanahan spent time in the Bay Area growing up as well, with Shanahan separating his Denver stays with a three-year run as OC in San Francisco, but most of Mike Shanahan's NFL coaching years came in Colorado.
"Always deep down, I think, I'd rather [be in] a different situation," Shanahan said. "But I loved Denver. I loved growing up there. My family is from there. My wife's family is from there. So it would be a hard thing to say no to when your family's there and things like that. But by no means was that my situation of choice."
Elway agreed one of his finalists receiving the job Joseph now has would have created potentially a more pressure-packed environment and expounded on why Shanahan viewed it as a lesser fit than his current position.
"You are coming back to where you were raised and friends and family and everything that's back there, all of a sudden you might have been walking into a pressure-cooker, especially with the situation that we're in, having won the Super Bowl a couple years ago, so the expectation level was very high," Elway said of the disparate natures of the job Joseph got and the rebuilding task Shanahan agreed to undertake. "So I can understand what his thinking was on whether he wanted that job or not because [of] having grown up there and such."
Photo courtesy of USA Today Sports Images.
Follow @PFRumors