The NFLPA has re-elected DeMaurice Smith as executive director by a 14-0 vote, according to Jim Trotter of ESPN.com (Twitter links). Smith's new term runs thorough 2021 and is concurrent with the NFL's contractual bargaining agreement.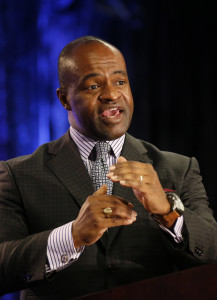 Civil rights lawyer Cyrus Mehri had been expected to contend for the top union job, but Smith easily won re-election with an uncontested vote. As such, Smith will lead negotiations as the NFL and the NFLPA attempt to hammer out a new agreement when the current CBA expires in three-plus years.
Smith's re-election doesn't necessarily mean labor peace is on the horizon, however. Indeed, reports have indicated the union is preparing for some sort of work stoppage (either via a lockout or strike), while Smith himself has indicated that he's not willing to extend the CBA.
"I don't know what [Roger Goodell is] thinking when he says extension," said Smith. "But there's not gonna be an extension of the CBA. If the owners are interested in talking about issues that are currently covered by the CBA or issues that aren't currently covered by the CBA and they want to have a renegotiation on some of those issues, we'll have a renegotiation of those issues. But there's not going to be a 2025 [or] 2027 addendum to the CBA that says, 'We're good with this.'"
Smith, who was also a unanimous selection in 2009, reportedly benefited from a revamped selection process that prevented a multitude of candidates from joining the race.
Photo courtesy of USA Today Sports Images.
Follow @PFRumors