A judge has dissolved Cowboys running back Ezekiel Elliott's temporary restraining order, meaning his six-game suspension is now in effect once again, tweets Kate Hairopoulos of the Dallas Morning News.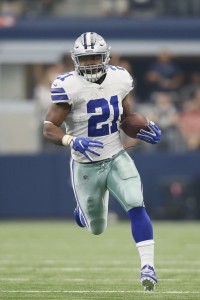 Elliott was granted a temporary injunction earlier this month which allowed him to stave off suspension for two more weeks. But a judge tonight indicated that Elliott had "ample opportunity" to challenge the NFL's ban during arbitration, and also said "the proceedings in their totality accorded with the CBA and the personal conduct policy," per Hairopoulos (Twitter links). In essence, the court decided Elliott had already exhausted his potential remedies.
An appeal to the U.S. Court of Appeals for the Second Circuit would be Elliott's next step, according to Mike Florio of Pro Football Talk, but a decision from that bench wouldn't be expected in short order. As such, Elliott will be banned while waiting for an answer from that court (were he to send his case in that direction). However, Elliott has 24 hours to file an appeal with the Second Circuit, and his legal team will argue that his suspension should be remain lifted until the appeal is heard, tweets Adam Schefter of ESPN.com.
Elliott, of course, was issued his suspension following allegations of domestic violence. The fourth overall selection in the 2016 draft, Elliott has accused the NFL of fomenting a conspiracy against him, and the dispute has gotten ugly from all angles. Elliott and his camp have cast doubt on the consistency of his accuser's claims and suggested her motives were profit-based, while the NFL has accused Elliott of victim-shaming.
But the situation at hand has little to do with the original accusations against Elliott, and instead is focused on the NFL's disciplinary process and whether the league followed its own procedures. Interestingly, the Cowboys organization jumped into the legal fray earlier this month, issuing an affidavit stating the club would suffer irreparable harm if the New York didn't issue Zeke a temporary injunction.
If Elliot is forced to serve his suspension immediately, he'll miss games against the Chiefs, Falcons, Eagles, Chargers, Redskins, and Giants before returning to face the Raiders in mid-December. The Cowboys will use some combination of Alfred Morris, Darren McFadden, and Rod Smith for the next six weeks as they attempt to maintain their tenuous grasp on postseason contention.
Photo courtesy of USA Today Sports Images.
Follow @PFRumors