Jay Cutler has not exactly settled into a groove as the Dolphins' starter after re-emerging from a brief retirement, and he delivered another unimpressive performance in Week 5.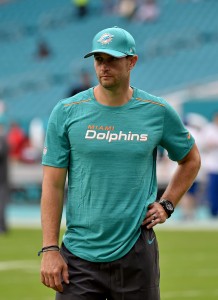 Cutler finished with just 92 yards passing despite attempting 26 passes. Although the Dolphins beat the Marcus Mariota-less Titans, Cutler has not played well for most of this season. But the team is not planning a quarterback switch this season.
Not only do the Dolphins plan to stick with Cutler next week, they don't intend to bench him for the rest of the season, Armando Salguero of the Miami Herald reports. Multiple sources inside the organization informed Salguero the job is Cutler's, despite his string of ineffective performances.
Adam Gase said (via Adam Beasley of the Miami Herald) Cutler's "way down on the list" of the Dolphins' offensive problems, adding the offense would be better if "guys would do their job, catch the ball, block the right guys, give the quarterback a chance to do something." The Dolphins dropped five passes on Sunday, with four of those coming in a seven-play span.
Gase was asked about a possible benching of Ryan Tannehill last season and steadfastly shot that down, so the team both publicly and privately expressing Cutler support isn't surprising even if the offense is not where it was during Gase's first season at the controls.
Photo courtesy of USA Today Sports Images.
Follow @PFRumors