Cowboys running back Ezekiel Elliott won't serve his six-game suspension just yet, as a New York court has granted him a temporary restraining order against the NFL, according to Kate Hairopoulos of the Dallas Morning News (Twitter links).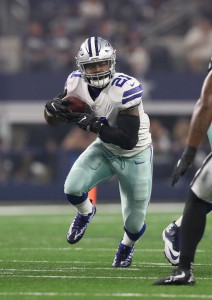 Elliott should be available for Dallas' next two games, but will need to plead his case to Judge Katherine Fallia when she returns from vacation around October 30. That means Elliott will likely be able to face the Redskins and 49ers over the course of the next two weeks. But the TRO could also be delaying the inevitable, as each week Elliott doesn't accept his six-game ban is one more week he'll have to serve later this season.
Essentially, Elliott has been given a two-week respite from the legal process after the Fifth Circuit Court of Appeals restored his suspension last week. Elliott and his team re-filed in Texas, but that case was dismissed for lack of jurisdiction, tweets Tom Pelissero of NFL.com. Today's decision from a New York court was thought to be Elliott's last remaining recourse.
Elliott, of course, was issued his suspension following allegations of domestic violence. The fourth overall selection in the 2016 draft, Elliott has accused the NFL of fomenting a conspiracy against him, and the dispute has gotten ugly from all angles. Elliott and his camp have cast doubt on the consistency of his accuser's claims and suggested her motives were profit-based, while the NFL has accused Elliott of victim-shaming.
But the situation at hand has little to do with the original accusations against Elliott, and instead is focused on the NFL's disciplinary process and whether the league followed its own procedures. Interestingly, the Cowboys organization jumped into the legal fray today, issuing an affidavit stating the club would suffer irreparable harm if the New York didn't issue Zeke injunction today, per Amy Dash of CBS Sports (Twitter link).
If and when Elliott is actually suspended, the Cowboys should be able to cover — in at least some regard — for his loss with backups Alfred Morris and Darren McFadden. Neither back is the singularly dynamic talent that is Elliott, but each offers a vast amount of NFL experience.
Photo courtesy of USA Today Sports Images.
Follow @PFRumors