Steelers wide receiver Martavis Bryant — the subject of recent trade rumors — took to social media and responded to an Instagram user who claimed fellow Pittsburgh pass-catcher JuJu Smith-Schuster is the superior wideout, as Jeremy Fowler of ESPN.com writes. Bryant, who has since deleted the post, "wants out" of Pittsburgh, a source tells Fowler.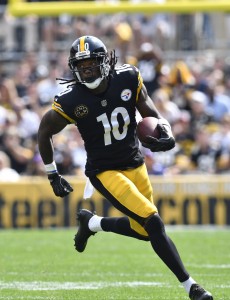 "JuJu is no where near better than me, fool," Bryant wrote. "All they need to do is give me what I want and y'all can have JuJu and whoever else."
Bryant, who is back in the NFL after being suspended for the entirety of the 2016 campaign, reportedly requested a trade last week, although he has since denied that ask. Either way, the Steelers don't intend to deal Bryant, although he has struggled this season and is being phased out of the club's offense in favor of Smith-Schuster. Bryant has manged only 234 yards and one touchdown in seven games, and he essentially rotated with Smith-Schuster in Sunday's victory. Bryant finished with 36 offensive snaps, while Smith-Schuster — a second-round rookie — played 32.
"JuJu is the future and got great talent and is going to be one of the best to play this game," Bryant wrote after deleting the original post. "I want him to get his. I just want mines, period, point-blank. Ain't nobody did nothing to get me back. I worked my a– off to get myself back with no help and little support, period. In due time the process will show."
Bryant didn't show up for required team meetings Monday, tweets Ed Bouchette of the Pittsburgh Post-Gazette, and one teammate said Bryant "called in sick." Whether or not Bryant's absence today is related to his ongoing situation within the offense is unclear, but the timing would certainly hint that the two are interconnected. Bryant's agent says the wideout did in fact see a doctor today, however, per Ian Rapoport of NFL.com (Twitter link).
The Steelers don't plan on disciplining Bryant for either today's meeting or his comments on Smith-Schuster, as Bouchette writes in a full piece. And — reiterating previous reports to this effect — Pittsburgh "certainly" doesn't intend to ship Bryant out of town via trade.
Photo courtesy of USA Today Sports Images.
Follow @PFRumors