Jeff Fisher's name has resurfaced recently as coaching changes are set to commence. The multi-decade sideline veteran wants another chance as a head coach. Fisher is eager to "salvage his legacy" and has already begun contacting potential staff members in the event he does receive the keys to a third NFL franchise.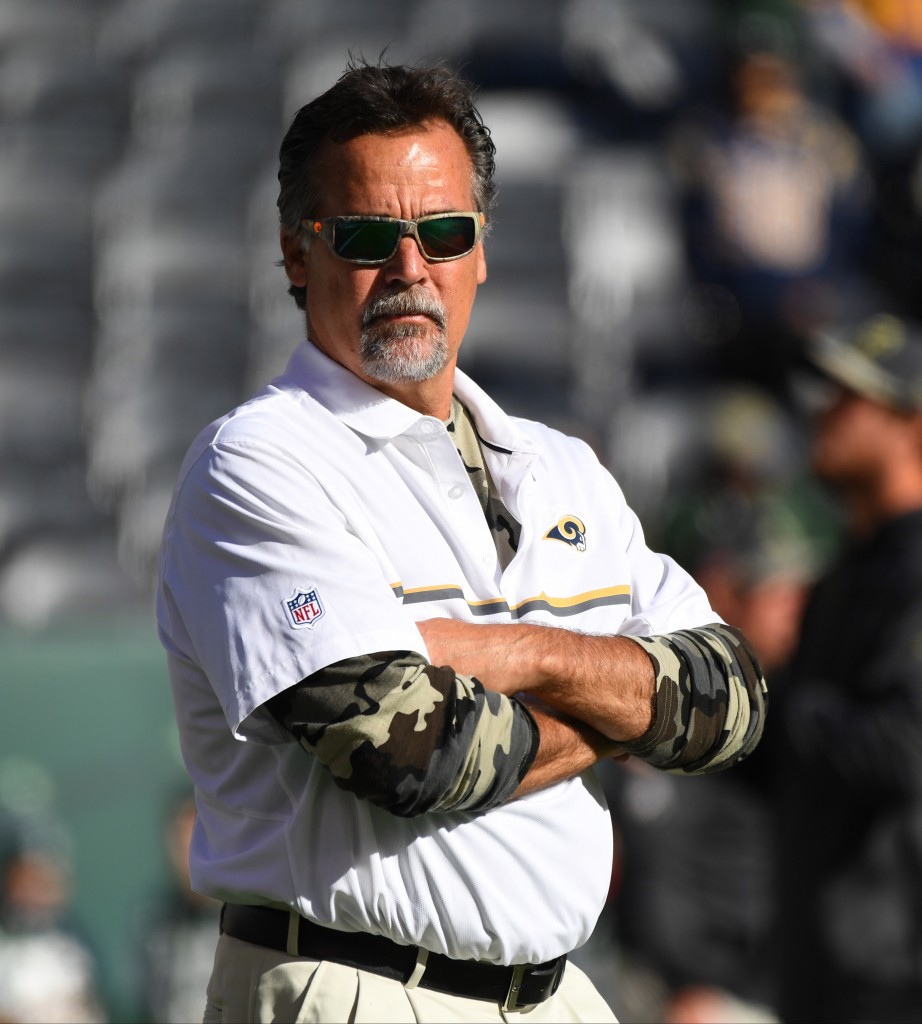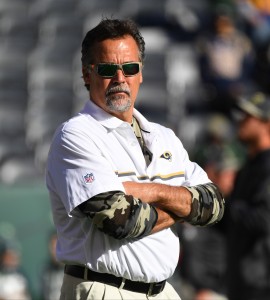 The former Rams and Oilers/Titans leader said during a radio interview he had "a lot to do with" assembling the roster Sean McVay has on the cusp of an NFC West championship.
"I have no regrets whatsoever," Fisher said on Nashville's 104.5-FM (via Rich Hammond of the Los Angeles Daily News). "I am a huge fan of the Rams players. They're basically — I don't want to say my players — but I had a lot to do with that roster. Left them in pretty good shape, and Sean, as he has shown in a short period of time, is an outstanding young coach, and he's got the offense going, which was needed."
The core of this Rams roster — Aaron Donald, Jared Goff, Todd Gurley, Trumaine Johnson and Co. — arrived during Fisher and Les Snead's four-plus-year run together. However, the veteran coach couldn't steer the Rams into the playoffs. They are likely to snap a 13-year drought. Fisher traced some of his struggles back to Sam Bradford's ACL tears in 2013 and '14, when the team ended up going 7-9 and 6-10, respectively.
"We were making progress and the team was deprived," Fisher said. "It was deprived of talent. So we started building. The next year, our quarterback tears his ACL. The next year, our quarterback tears his ACL again."
A Fisher-led team has not made the playoffs since the 2008 Titans. That drought — an eight-season hiatus — helped tie Fisher with Dan Reeves for the most losses in NFL history by a coach. The Rams fired him before he could potentially set the record. At 173-165-1, Fisher has the 12th-most wins in NFL history.
"My perspective is different because I went through it and I know exactly what I went through," Fisher said. "I get a kick out of people (saying), 'Oh, you just tied Dan Reeves for most losses in the history of the National Football League.' Well, I'm a few wins away from being in the top 10. So, where do you want to emphasize? What's your point?
"Two different franchises, five different cities, six different stadiums. Not an easy thing to do. The Chargers moved from San Diego to Orange County and started 0-4 (this season). Relocation is huge. And I'm not making excuses."
Lastly, Fisher addressed Goff's progress under McVay. Fisher kept fellow 2017 breakout performer Case Keenum in over Goff for several games last season, one that did not go well for Goff — or just about any Rams offensive player involved a league-worst attack — but said he kept the No. 1 pick on the bench for protection purposes.
"All through it, I was thinking about the best interests of the franchise, not myself," Fisher said. "If I was worried about myself, I probably would have started him from day one and said, 'Hey, this guy is going to be a better player.' That was his rookie year, so we could chalk (struggles) up to a rookie year, but no, I wanted to do what was best for Jared."
Follow @PFRumors