The Panthers announced earlier this week that they've opened an investigation into workplace misconduct by owner Jerry Richardson, an inquiry that has now been taken over by the league. In a detailed story posted Sunday, L. Jon Wertheim and Viv Bernstein of Sports Illustrated provide a comprehensive look at the allegations against Richardson.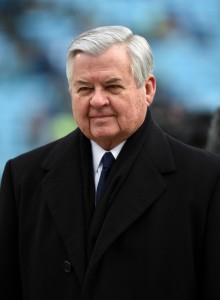 Richardson's misconduct seems to have entailed both inappropriate sexual comments and activity directed towards female Panthers employees, plus a racial slur aimed at an African American scout. The sexual conduct involved remarks about women's appearances, personal grooming, clothing, as well as possible improper touching. "Looking back," one former employee told the SI scribes, "he was gaining our trust before doing things he shouldn't be doing."
In addition to the alleged racial slur, "antebellum echoes" encompass the franchise, as employees refer to Richardson simply as "Mister." "It was a power culture. You did what Mister said, when he said it," says one former employee. "He thinks he's really great. You're supposed to reinforce that… Even when he does things that make you feel like half a person, that you know are wrong."
Per Wertheim and Bernstein, Richardson has regularly reached financial settlements with accusers, but those negotiations are finalized with non-disclosure and non-disparagement language attached. As such, there is little in the way of paperwork regarding the claims against Richardson, but one former employee said she has in fact seen documentation detailing sexual harassment charges against the franchise owner.
Photo courtesy of USA Today Sports Images.
Follow @PFRumors