Currently boasting a 10-3 record and holding the No. 2 seed in the NFC playoff picture, the Vikings are the best NFL team without a clear quarterback plan for 2018. Sure, the Jaguars and Bills could be making changes under center this offseason, but neither of those clubs have the overall talent — at running back, wide receiver, tight end, offensive line, and on the defensive side of the ball — that does Minnesota.
The Vikings have excelled with Case Keenum and (for a one game) Sam Bradford throwing the ball, but both of those signal-callers — and the now-recovered Teddy Bridgewater — are free agents in 2018. Complicating matters is that incumbent offensive coordinator Pat Shurmur is expected to draw head coaching interest during next year's hiring cycle, and if Minnesota is forced to bring in a new play-caller, he may want to choose his own quarterback.
Whether or not Shurmur returns, the Vikings are going to have several difficult decisions to make over the next few months. Let's take a look at the club's options at quarterback, beginning with the players currently on their roster:
Internal Options
Case Keenum: A journeyman who'd posted a quarterback rating of just 78.4 during his first five years in the NFL, Keenum is in the midst of his best season as a pro. His passer rating of 96.2 ranks ninth in the league, while he's seventh among QBs with 6.99 adjusted net yards per attempt. Keenum has only taken 15 sacks on the year (fewest among quarterbacks with at least 300 pass attempts), which speaks not only to improvements along the Vikings' offensive line, but Keenum's ability to evade pressure.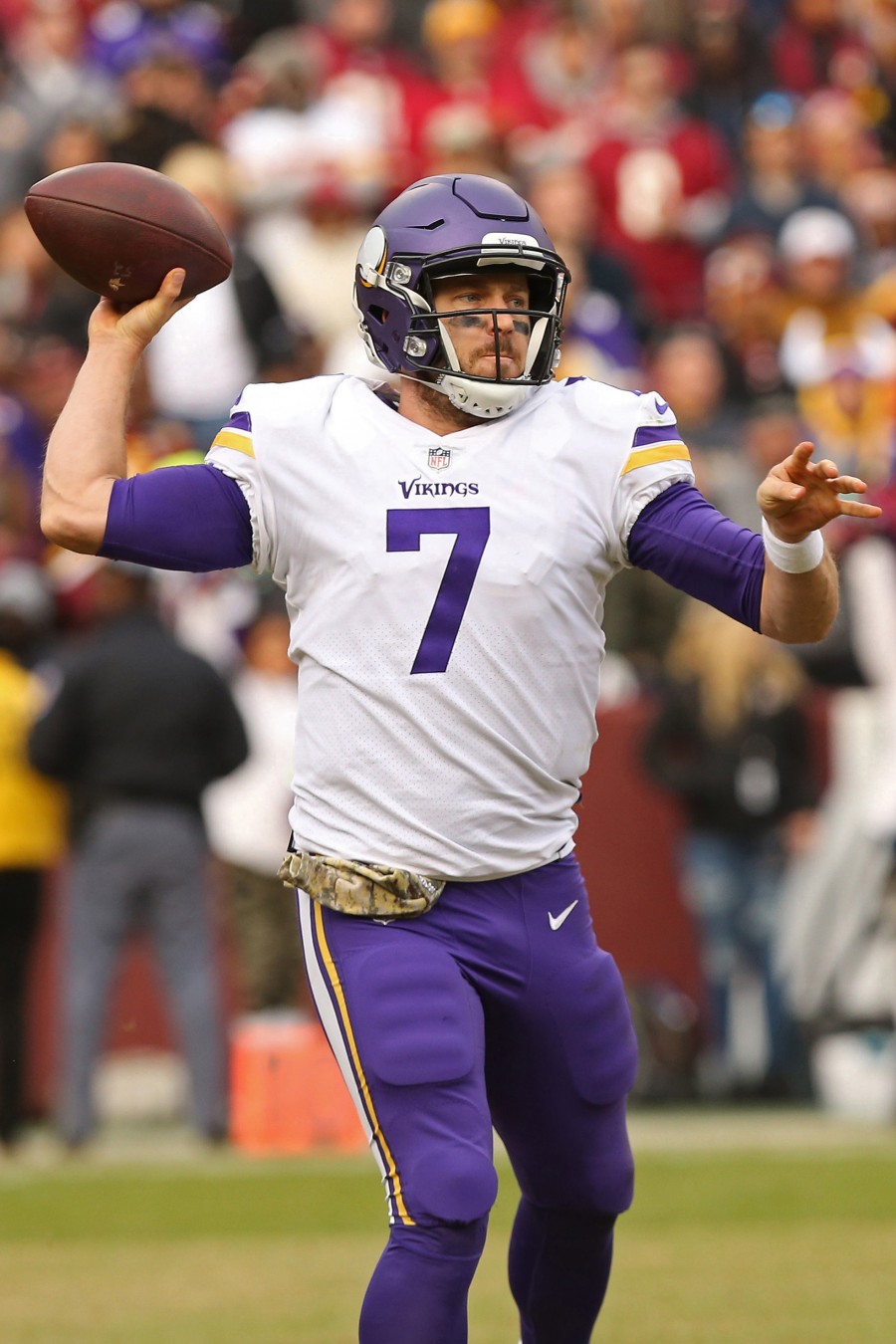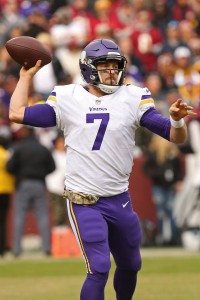 Keenum, who is playing on a one-year, $2MM contract, appears poised to cash in this offseason, and it wouldn't be a total surprise if he garners a deal that approaches $18MM annually, especially given the number of teams looking for quarterback help. That figure won't be a problem for the Vikings, who rank sixth in available 2018 cap space, but it's unclear if Minnesota views Keenum as a long-term option. The Vikings reportedly haven't begun extension negotiations with Keenum or any other their quarterbacks, and don't plan to do so until the 2017 concludes.
That Minnesota hasn't started contract talks with Keenum is a bit odd, if only because the club will likely face competition to retain Keenum if he hits the open market. The Broncos, Jaguars, Bills, Jets, Browns, and Cardinals are among the teams who could be searching for a quarterback this offseason, so the Vikings may want to take advantage of their exclusive negotiating window. While Minnesota will have the option of deploying the franchise tag on Keenum, the steep price tag (~$23M) makes that course of action unlikely.
Teddy Bridgewater: One of the more inspiring stories in the NFL this year, Bridgewater has valiantly worked his way back from a knee injury suffered prior to the 2016 season. Bridgewater, a first-round pick in 2014, hasn't played a single snap this season after being activated in early November, but he's serving as Keenum's direct backup. It's fair to wonder if the Vikings will attempt to get a look at Bridgewater in live action over the last three games of the regular season, but the club's fight for playoff seeding could preclude them from removing Keenum from any of the next three contests.
While the Vikings clearly have a soft spot for Bridgewater (they were "tempted" to start him last month), it's important to remember that the 25-year-old didn't exactly light it up from 2014-15. Among the 30 quarterbacks who attempted at least 500 passes in those two seasons, Bridgewater ranked 22nd in passer rating, 25th in adjusted net yards per attempt, and 29th in touchdown percentage. Bridgewater didn't have the benefit of Minnesota's current weapons (Adam Thielen was a special teams player until 2016), but it's difficult to argue there isn't any risk in relying on Bridgewater.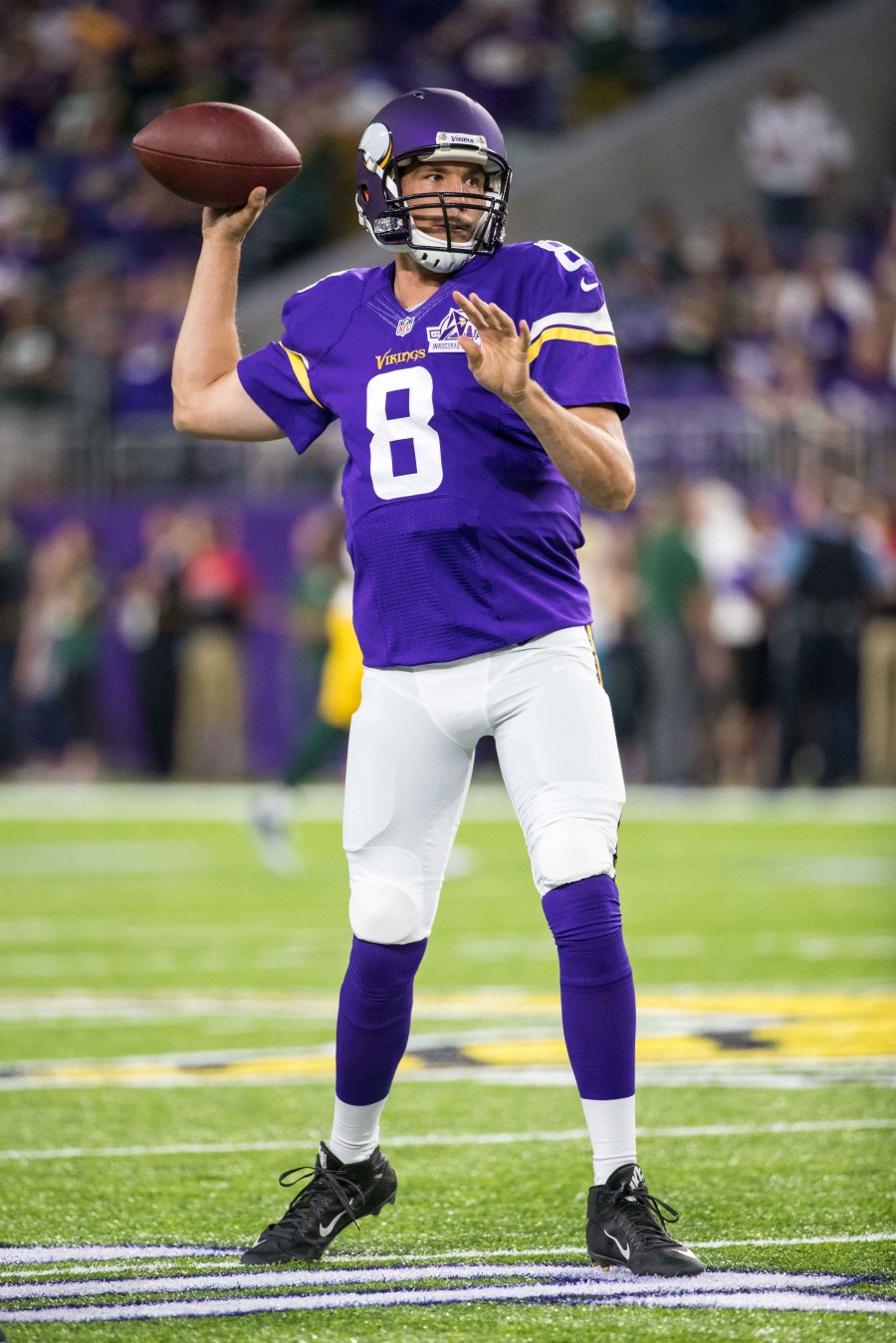 Sam Bradford: Bradford did what he could as the Vikings' starter in 2016: while playing behind arguably the league's worst offensive line, Bradford set an NFL record for completion percentage but struggled to get the ball down the field, finishing just 23rd in air yards. An excellent 2017 season opener (346 yards, three touchdowns against the Saints) offered hope for the current campaign, but recurring knee issues limited Bradford to only one more half of play before he was placed on injured reserve in November.
Given his injury risk, Bradford may have to accept a one-year, incentive-laden deal this offseason. Depending on the price, such a contract could potentially interest the Vikings, especially if they also re-sign Bridgewater or another low-cost quarterback. Bradford, 30, should have a market, but with a number of enticing options available as free agents this offseason, his knee problems will likely limit his overall earning power.
Free Agents
Drew Brees: Brees' contract with the Saints will void on the final day of the 2017 league year, and if New Orleans doesn't reach an extension with its franchise quarterback, he'll count for $18MM in dead money on the club's 2018 salary cap. Recent reports have indicated no negotiations have occurred between the two sides, but it's frankly odd to consider Brees playing for any other club, especially since the Saints have added several exciting young players and improved their defense.
If Brees does consider other teams, though, the Vikings would immediately jump to the top of list. In some ways, Minnesota and New Orleans have similar roster makeups that include solid offensive lines, effective running games, multiple pass-catching weapons, and playmaking defenses. Again, Brees returning to the Saints seems like a near-lock, but the Vikings and their win-now roster would make for a possible fit if he leaves.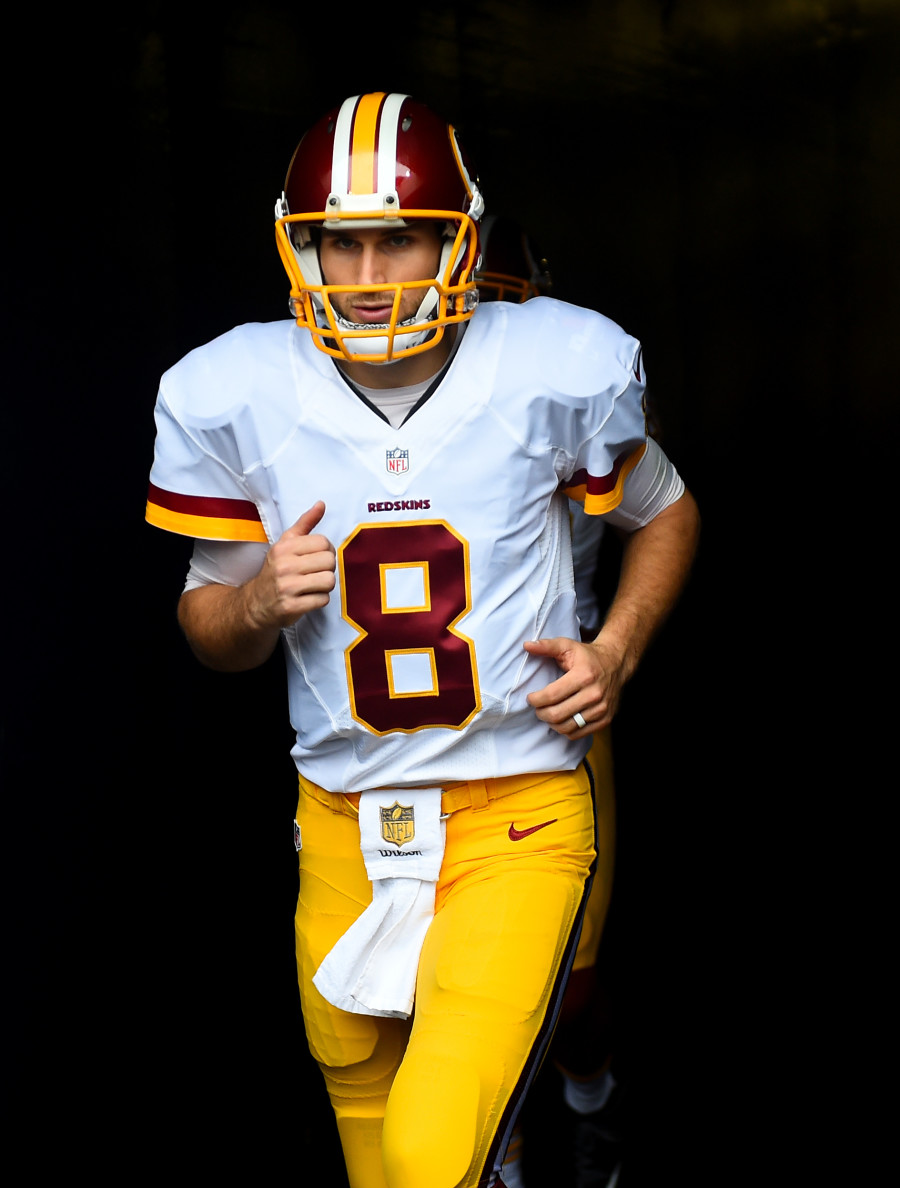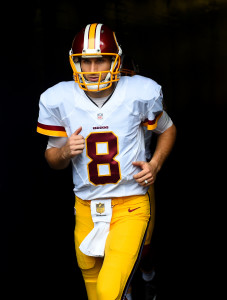 Kirk Cousins: Washington's decision to not extend Cousins looks worse and worse as the season progresses, as the club has now paid its quarterback nearly $44MM over the past two years. A third consecutive franchise tag for Cousins would cost the Redskins $34.5MM in 2018, and the team is reportedly no longer considering the cheaper transition tag, a tender which would make it easier for rival teams to make Cousins offers. Cousins will require the largest and longest contract of any contract on this list, but he'd solve the Vikings' quarterback question for years to come.
Click below to continue reading.
Josh McCown: Although he arguably posted the best full season of his career in 2017, the 38-year-old McCown likely won't be on the table for the Vikings unless they also acquire/draft a young quarterback. McCown, who is currently on injured reserve and hasn't committed to continuing his career in 2018, would be a low-cost stopgap for Minnesota if they want to develop another passer, but I have a hard time imagining the Vikings would turn over their hopes to a career journeyman. But McCown could be in the mix if every other option for Minnesota falls through.
A.J. McCarron: At present, we're not even sure if McCarron will be an unrestricted free agent next year. Because he was on the non-football injury list during his rookie campaign, McCarron could be designated as a restricted free agent, limiting his options (a grievance will be heard in February). If he's an RFA, the Bengals will likely tender McCarron at the first- or second-round level, meaning the Vikings probably wouldn't target him. If he's a UFA, however, head coach Mike Zimmer's Cincinnati connection could lead to a union, even though McCarron has attempted only 127 career passes.
Jimmy Garoppolo: While he's scheduled to hit the open market next spring, Garoppolo almost certainly won't be allowed to become a free agent. The 49ers don't plan to extend him before the regular season ends, but given that they sacrificed a second-round pick to acquire Garoppolo, San Francisco will surely use the franchise tag or sign the former Patriot to a long-term deal before the 2018 campaign begins. If he does somehow get free, Garoppolo will be pursued by a number of teams, but the Vikings would have a fighting chance.
Trade Candidates
Eli Manning: Both Giants owner John Mara and interim general manager/full-time GM candidate Kevin Abrams want Manning to return to New York next season, but if the club decides to undergo a full-scale rebuild, a 37-year-old quarterback nearing the end of his career would be a strange fit. While there's every possibility that Manning is done (his performance in 2017 would certainly force one to lean in that direction), he's a veteran signal-caller who would mesh with Zimmer and the rest of the Vikings' roster. He's under contract through 2019, with base salaries/roster bonuses in excess of $16MM in each of the next two seasons.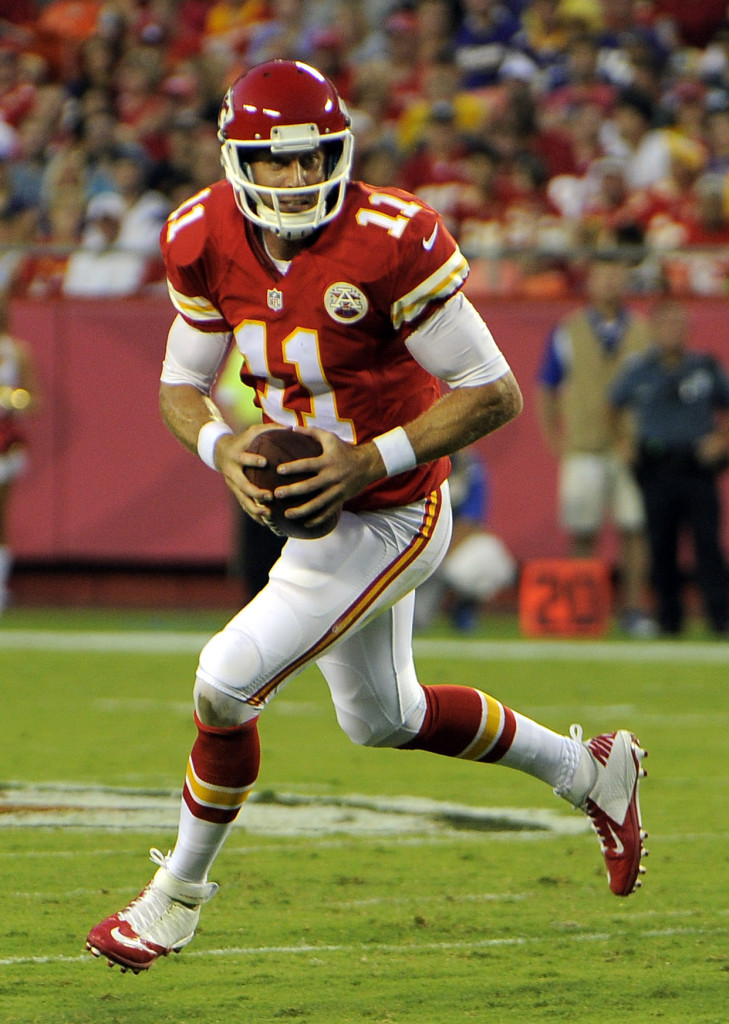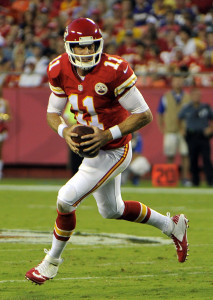 Alex Smith: Reports have recently indicated a "strong expectation" that the Chiefs will trade Smith following the 2017 campaign, a move that's been expected ever since the club traded up in this year's draft to select fellow quarterback Patrick Mahomes. While Kansas City might not be able to acquire what it originally paid for Smith (two second-round picks), the team's main motivation in a deal would be clearing out cap space. Smith is due a $14.5MM base salary and a $2MM roster bonus in 2018, and the Chiefs are currently projected to be ~$2.5MM over the cap next year. While his mid-season struggles present concern, Smith could be a solid passer for the Vikings, and would seemingly be an especially interesting fit in Shurmur's offense.
Tyrod Taylor: Looking at Taylor's three seasons as a starting quarterback, it's tough to find out why the Bills seemingly have no interest in keeping him around for the long term. Since becoming the Bills' No. 1 option in 2015, Taylor ranks 15th in quarterback rating and 17th in adjusted yards per attempt. He's also finished as a top-20 DVOA quarterback twice in the past three years, and has ranked as a top-12 rushing quarterback in each of the past three seasons. Buffalo can release Taylor this offseason and save $9.44MM on its salary cap, but the Vikings could probably send a late-round pick to the Bills in order to prevent Taylor from ever hitting the open market.
Jacoby Brissett: Brissett has made the most of his opportunity in Indianapolis, starting 13 games in the absence of Andrew Luck. He's only 24 years old and has two years remaining on his contract, so while he wouldn't garner a first-round pick via trade, Brissett could certainly command a Day 2 selection if the Colts look to move him. While Luck is reportedly making progress from his shoulder injury while seeking treatment in Europe, the Colts could potentially hold onto Brissett this offseason as a hedge against Luck's health.
Follow @PFRumors