Did the Raiders violate the Rooney Rule with the hiring of Jon Gruden? That's what the Fritz Pollard Alliance is asking the NFL.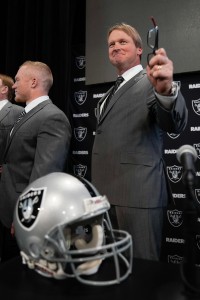 "As soon as we learned of the reports, we formally requested that the NFL thoroughly investigate the matter to conclusively determine whether the Rooney Rule was violated — and if it was violated, to impose an appropriate punishment," Fritz Pollard Alliance counsel Cyrus Mehri and N. Jeremi Duru said in a statement.
During Gruden's introductory press conference, owner Mark Davis said that he spoke with Gruden on Christmas Eve – while Jack Del Rio was still employed as the head coach – about returning to Oakland. No deal was signed at that point, but Davis intimated that an agreement was in place. This all took place more than a week before any minority candidate was interviewed for the job.
"I felt pretty confident that he was all-in," Davis said. "And that's the term that we were using in our discussions and everything, are you all-in? And I never wavered from all-in. And this time he didn't waver, either."
The Raiders technically did interview a pair of black coaches in Oakland tight ends coach Bobby Johnson and USC offensive coordinator Tee Martin and they feel that is enough to satisfy the Rooney Rule. However, Davis' comments could be damning, because he appears to be saying that the Gruden hire was already a done deal before they met with GM Reggie McKenzie.
If the NFL finds that the Raiders were in violation of Rooney Rule procedure, the Raiders could face hefty fines and/or the forfeiture of draft picks.
Photo courtesy of USA Today Sports Images.
Follow @PFRumors