Former Panthers and Cowboys defensive end Greg Hardy is now focusing on mixed martial arts, but he still hopes to find his way back to the NFL. Hardy says he is "damn ready at all times" to play in the NFL, though he knows that call might never come.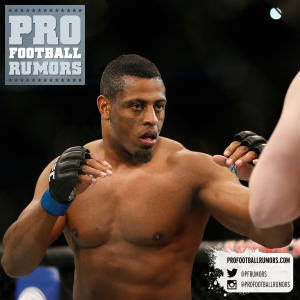 "That's the tricky part," Hardy said when asked if he deserves another chance (link via Mark Francescutti of the Dallas Morning News). "I have to use everything I learned in martial arts and learn to let it go. I won't force it. It's them not giving me an opportunity."
Hardy says he has agreed to play in 13 games with the Richmond Roughriders of the American Arena League with a contract that will allow him to opt out for an NFL deal. In the meantime, he is getting ready for an amateur MMA bout on Friday night. If the NFL never gives him another chance at taking the field, Hardy says his long-term goal is to become the UFC's heavyweight champion.
Back in July, agent Drew Rosenhaus admitted that the window on Hardy's NFL career is closing. Hardy did reasonably well for the Cowboys in 2015 as he started 15 games and graded out as the league's 28th-best edge defender out of 110 qualified players, according to Pro Football Focus. On the other hand, he's a public relations nightmare and he was frequently late or absent from team meetings during that season, which marked his first "second chance". Teams know that signing Hardy, 30 in July, would upset a good portion of the fan base and possibly disturb the locker room.
Right now, it still doesn't seem likely that he'll get another crack at redemption in the NFL. But, for what it's worth, Hardy has not given up on the idea.
Follow @PFRumors