As our Sam Robinson detailed yesterday, any number of teams could pursue Kirk Cousins if and when he hits the open market, but the Broncos and Jets are currently considered the favorites in the Cousins sweepstakes (although it does appear that the Vikings and Cousins match up very nicely as well).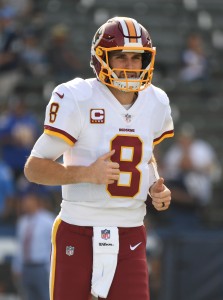 Indeed, as Troy E. Renck of Denver7 writes, the Broncos will be "all in" on Cousins, which is about as definitive as a statement of interest can get. And, as Renck notes, Denver does have a pretty strong sales pitch, as the club has more Super Bowl berths (seven) over the last 34 seasons than losing seasons (six), and it has shown a willingness to build around a free agent quarterback (see Peyton Manning, 2012). The Broncos also have a strong roster and could be just a solid QB away from returning to contention.
However, Denver does not have the same type of salary cap room that several other Cousins suitors enjoy, so Renck says that the Broncos would need Cousins to show flexibility in his salary over the first few seasons of his contract. Even though Cousins has expressed excitement over the possibility of playing for Denver, it is unclear whether he would be willing to make such a concession.
Enter the Jets. Per Mike Florio of Pro Football Talk, Gang Green is reportedly willing to at least consider fully guaranteeing the entirety of Cousins' contract if he were to sign with New York. And, if the Jets make that kind of pitch, other teams that want Cousins may have to follow suit or drop out of the race entirely.
And yet, even a fully-guaranteed contract may not be overly enticing to Cousins, as he may prefer a provision that guarantees him a fixed percentage of the salary cap after the first several years of the deal. After all, as Florio notes, most franchise quarterbacks do not suddenly lose their abilities or suffer career-ending injuries, and they typically either finish a long-term deal or have it torn up and replaced by a bigger deal before it expires.
Speaking of teams with a lot of money to throw at Cousins, the Browns have been discussed as a potential landing spot for the long-time Redskin, but John Keim of ESPN.com does not believe a Browns-Cousins marriage makes sense for either side, regardless of whether Washington tries to put the franchise tag on Cousins.
Photo courtesy of USA Today Sports Images.
Follow @PFRumors