With less than a month until free agency begins, Kirk Cousins looks to be — barring an 11th-hour Redskins franchise tag he would fight — close to signing a long-term contract with the team of his choice.
It's an incredibly unique situation, and teams with disparate profiles figure to make runs at signing the 29-year-old quarterback. Rebuilding teams, contending teams and operations that would seemingly be contenders if supplied a quarterback are going to pursue Cousins. So, where will he go?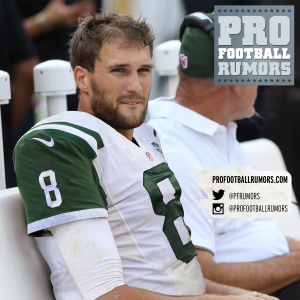 The Jets and Browns are going to have the most money to chase Cousins, and the former makes sense as a destination. New York surprised many last season by winning five games and finishing well off the pace for the No. 1 pick, which many predicted the rebuilding team would secure. The Jets could have more than $90MM in cap space after a few sensible roster moves, and despite their troubles in recent years, could make a case they are a young team who could build a long-term foundation around Cousins.
Cousins has said repeatedly that after making more than $44MM the past two years he wants to play for a contending team. The Browns, though, have a staggering amount of cap space at $110MM-plus. They could sell a free agent QB on their ability to construct a foundation, but their past does not inspire much confidence. And this, by just about every indication to this point, seems like the year they draft a quarterback.
The Bills made a surprise run to the playoffs last season, but Brandon Beane said upon being hired he doesn't plan to make many high-cost free agent signings. Considering this figures to be the most expensive free agent in NFL history, it's difficult to envision a Bills push for Cousins. And Tyrod Taylor may not be completely out of the picture yet.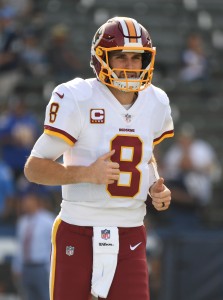 The Broncos and Cardinals are in similar positions as recent contenders who have fallen off the pace a bit, and neither will have the cap space to outflank the Jets or Browns. Both saw quarterback play lower their ceilings last season, and the Cardinals saw their longtime starter retire and his backups' contracts expire. Denver has both Paxton Lynch and Trevor Siemian under contract but has made no secret about wanting to upgrade — via free agency or the draft — with that desire presumably being centered around complementing the core players remaining from the Super Bowl season.
Both the Broncos and Jets are rumored to be gearing up for entrances into the Cousins sweepstakes, and the Bovada sports book has these two as the early frontrunners. However, both the Vikings and Jaguars fit the profile of franchises that could use Cousins as a possible springboard to a Super Bowl. How serious are they about this, though?
The Jaguars may have complications because of Blake Bortles' wrist surgery. The embattled starter not being able to pass a physical come mid-March will guarantee his $19MM fifth-year option salary and cloud a potential Cousins pursuit. Jacksonville's current plan is to keep Bortles, but is a chance at Cousins too tempting to avoid?
The Vikings would make sense as well but may opt to stick with Case Keenum via franchise tag. However, Cousins has proven more than Keenum, and although he would make for a costlier expense, Minnesota being on the doorstep of its first Super Bowl berth in 40-plus years may make ditching their 2017 setup for Cousins a worthwhile gamble. The Vikings do have several core players entering contract years, which could make a near-$30MM-AAV Cousins accord complicated. Anthony Barr, Eric Kendricks, Stefon Diggs and Danielle Hunter are four who fit that profile. How much will that factor into a Cousins push?
So, where does Cousins end up?
Does he stick to his winning-situation statements and avoid teams who have struggled in recent years, or can the Browns or Jets submit an offer he can't refuse? Can the Broncos make a sales pitch that their history surrounding a UFA QB with championship-caliber talent would be worth sacrificing a bit of cash, or is their nucleus' window closing to the point Cousins looks elsewhere? How serious are the Cardinals and Bills in this derby? And how much would the Vikings or Jaguars entering the fray change the outlook of this high-stakes process? Take PFR's latest poll and weigh in with your thoughts in the comments section.
Photo courtesy of USA Today Sports Images.
Follow @PFRumors