After Mark Ingram was suspended for four games earlier this week, we heard that the Saints wouldn't be pursuing a veteran running back. However, if the organization has a change of heart, they could focus in on a former member of the team. Head coach Sean Payton told reporters (including ESPN's Mike Triplett) that the Saints would "absolutely" consider signing running back Adrian Peterson if they decided to pursue a veteran player.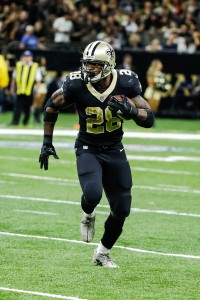 "This gets back to the notion that we had some type of any argument (during Week 1) at Minnesota, which I still say there was none," Payton said. "I think a ton of him."
Peterson's stint in New Orleans was short-lived, as the veteran found himself behind Ingram and Alvin Kamara on the depth chart. The 33-year-old ultimately appeared in four games for the Saints, compiling 81 rushing yards on 27 carries. He looked better during his time with the Cardinals, where he finished with 448 yards and two scores on 129 carries. While the future Hall of Famer is getting up there in age, there could still be something left in the tank. After all, Peterson did collect nearly 1,500 rushing yards only two seasons ago (on the flip side, he's also suffered a torn meniscus since that time).
While there were thoughts that Peterson didn't get along with Payton, it seems to be the contrary. Despite the lack of playing time, the organization still thought the veteran had a lasting impact on the locker room, especially when it came to Kamara. Peterson recently indicated that he was still interested in playing in the NFL, and he said that several teams had expressed interest.
"I'm healthy and I'm ready to roll," Peterson said. "If you want someone to help you win a championship and be productive — be very productive — you know how to contact me."
However, the Saints seem to be more focused on rolling with their current running backs during Ingram's absence, a grouping that includes Boston Scott, Trey Edmunds and Jonathan Williams. Payton seemed to indicate that he was still going to deploy a "two-headed monster" running attack, as opposed to giving Kamara extra carries.
"The mistake would be then Alvin gets 15 more carries, and that's not the direction we would expect to go. I don't think that is wise," Payton said.
Photo courtesy of USA Today Sports Images.
Follow @PFRumors