In March, Broncos GM John Elway reached agreement on a deal to send Aqib Talib to the 49ers for a fourth-round pick in the 2019 draft. Or, so he thought. Talib blocked the deal, forcing Elway to instead send the cornerback to the Rams for a 2018 fifth-round choice. In an interview with Andy Benoit of SI.com, Talib said the notion of going to San Francisco was a non-starter for him.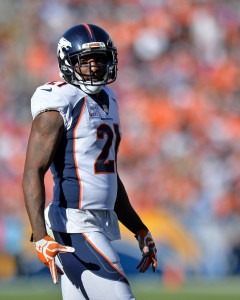 "I told [Elway], 'I ain't even gonna take no physical in San Fran, so there won't be no trade,'" Talib said.
Ultimately, Talib was willing to play for only three teams – the Rams, Patriots, and Cowboys. The veteran cited familiarity – both on-and off-the-field – as the reason for his three-team list.
"I'm going on year 11, man. I'm not trying to go learn a whole new system. I wanted to go somewhere I'd be comfortable." Talib said. "I'm comfortable if I can live at my house in Dallas and go just around the corner to work. I cut my bills in half. Or if I can go play in a defensive scheme that I've played in before. So I told him Dallas, New England or L.A."
Ultimately, Talib got his way as he reunited with Wade Phillips in Los Angeles. Meanwhile, the Rams assumed his contract, which calls for $11MM in 2018 and $8MM in 2019. Talib reportedly would have also been okay with an outright release, but he has no complaints after landing with one of his preferred teams – a Rams club that has gone to great lengths to improve its defense.
In addition to Talib, the Rams have also added defensive tackle Ndamukong Suh and Pro Bowl cornerback Marcus Peters. On the other side of the Ball, the Rams brought in Brandin Cooks to offset the loss of Sammy Watkins.
Photo courtesy of USA Today Sports Images.
Follow @PFRumors