On Thursday, Beth Bowlen Wallace, one of Pat Bowlen's seven children, went public with her desire to become the controlling owner of the Broncos when it comes time for the Pat Bowlen Trust to sign over that role. She said, "I have completed the criteria laid out by the trustees, so I felt it was a good time to come out and express my interest and desire to be a part of the organization again."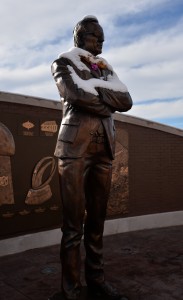 Bowlen, the beloved former owner of the Broncos, ceded control of the franchise to the Trust in 2014 due to his ongoing battle with Alzheimer's disease. The Trust, which is comprised of team president Joe Ellis, team counsel Rich Sliva, and Denver attorney Mary Kelly, is currently handling day-to-day operations, and one of its primary functions is to facilitate the equal transfer of ownership to each of Bowlen's seven children (from two different marriages) when Bowlen passes away. However, only one of those children will serve as controlling owner, and Ellis has full authority to sell the team to an outside party if such a sale is in the best interest of the children and the team. As such, Ellis is holding all the cards, and as Mark Kiszla of the Denver Post pointed out, he has the full support of the league, as the NFL granted a five-year extension to Ellis as controlling owner delegee in 2017.
So, when Wallace made her wishes known, Ellis was quick to respond, saying, "As trustees honoring the clear wishes of Pat, we have thoroughly evaluated whether Beth is capable of succeeding her father as controlling owner. We have determined that she is not capable or qualified at this time."
The Trust has a list of criteria to help determine who the next controlling owner will be, and back in January, we learned that only Wallace, 47, and Brittany Bowlen, 28, were the only two Bowlen children who were technically on track to meet those criteria.
Ellis, though, clearly feels that Wallace is not a viable candidate for the job, and Kiszla noted that her efforts to create a public "showdown" with the trustees felt like something of a Hail Mary, especially in light of the fact that Brittany Bowlen has been seen as the frontrunner for some time. In fact, longtime Denver Post columnist Woody Paige says that Brittany Bowlen was the only child that Pat Bowlen ever mentioned as a potential successor (Twitter link via Troy Renck of Denver7 ABC).
But Wallace is not going down without a fight. As Ryan O'Halloran of the Denver Post writes, Wallace responded to Ellis' comments by saying, "I am disappointed and disagree with the inaccurate comments made by the trustees. While I can certainly respond to each of those statements, I don't believe that will be productive. I want to do what is in the best interests of my family, the team and Denver fans. I care deeply for my entire family and I would never do anything to create divisiveness in the family. It remains my sincere hope that I, together with my advisers, can sit down with the trustees and their advisors to resolve this situation. The fans and league deserve this, and we have repeatedly offered to meet with the trustees to accomplish this objective. Therefore, I will not respond to their inaccurate statements at this time."
After Wallace went public, Broncos GM John Elway addressed the situation by reaffirming his faith in, and support of, Ellis. Brittany Bowlen, meanwhile, has not offered any public comment as of yet, which is probably just as well for her.
Until just a couple of days ago, it looked as if there was little controversy surrounding how the Broncos are being run. Now, though, there is a chance this could get ugly, and as Kiszla notes, another disappointing season on the field in 2018 will only amplify the questions and concerns about fissures in the Bowlen family business.
Follow @PFRumors