Larry Fitzgerald has deliberated about retirement the past two offseasons, and he's returning to head up the post-Carson Palmer Cardinals offense. But might the future Hall of Famer now be considering playing beyond 2018?
Whispers around the organization point Fitzgerald to a possible future with the team that goes beyond his age-35 season, Kent Somers of the Arizona Republic reports. Setting a rough timeline for his hopes, Steve Wilks included the possibility of 2019 and perhaps 2020 in his hopes for the all-time Arizona great.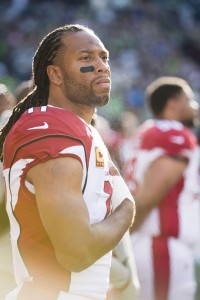 "I think really that's a question for him, but I would love to have him back," Wilks said Wednesday, via Somers. "As I've said earlier, next year and maybe even a year after that."
Fitzgerald's put together three strong seasons in his early 30s and has made the Pro Bowl in 10 of the past 11 years. His future with the Cards could depend on how quickly Josh Rosen can acclimate, and Arizona does have a new supporting cast of wideouts — headlined by second-rounder Christian Kirk — it's installing this offseason. Poor quarterback play in between Kurt Warner and Palmer limited Fitzgerald in the early 2010s, so Rosen figures to be an important component to Fitz's future. As will his fit in Arizona's new offense after he flourished in Bruce Arians'.
Fitz, naturally, did not make any big proclamations about a longer-term future.
"I'm just trying to get through February in one piece," Fitzgerald said, via Somers. "I don't buy green bananas. I don't have time to watch 'em ripe. I've got to get it now."
If Fitzgerald stays healthy this season, he will almost certainly surpass Terrell Owens for No. 2 in all-time receiving yards. He has 15,545 in 14 seasons; that's 389 shy of Owens' mark. Fitzgerald is 315 receptions away from Jerry Rice's standard of 1,549. That's his best chance to catch one of the legend's marks, and it would take at least three more seasons to get there. He's 18 touchdown receptions away from moving into the top five, thus supplanting Marvin Harrison (128).
Photo courtesy of USA Today Sports Images.
Follow @PFRumors