This year, seven NFL teams made head coaching changes. As a whole, the moves continued the NFL's trend of moving in a younger direction.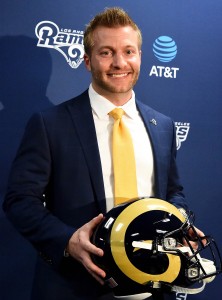 Here is the age of every NFL's head coach, ordered from youngest to oldest at the start of Week 1 of the 2018 season:
Sean McVay, Rams – 32
Kyle Shanahan, 49ers – 38
Matt Nagy, Bears – 40
Adam Gase, Dolphins – 40
Mike Vrabel, Titans – 43
Matt Patricia, Lions – 43 (Note: Patricia turns 44 just days after the Lions' season opener.)
Sean McDermott, Bills – 44
Vance Joseph, Broncos – 45
Mike Tomlin, Steelers – 46
Dan Quinn, Falcons – 47 (Note: Quinn turns 48 just days after the Falcons' season opener.)
Bill O'Brien, Texans – 48
Anthony Lynn, Chargers – 49
Steve Wilks, Cardinals – 49
Doug Pederson, Eagles – 50
Jay Gruden, Redskins – 51
Jason Garrett, Cowboys – 52
Hue Jackson, Browns – 52
Pat Shurmur, Giants – 53
Doug Marrone, Jaguars – 54
Sean Payton, Saints – 54
Todd Bowles, Jets – 54
Mike McCarthy, Packers – 54
Jon Gruden, Raiders – 55
John Harbaugh, Ravens – 55
Ron Rivera, Panthers – 56
Frank Reich, Colts – 56
Dirk Koetter, Buccaneers – 59
Marvin Lewis, Bengals – 59
Andy Reid, Chiefs – 60
Mike Zimmer, Vikings – 62
Bill Belichick, Patriots – 66
Pete Carroll, Seahawks – 66 (Note: Carroll turns 67 just days after the Seahawks' season opener.)
Just two years ago, Adam Gase was the league's youngest head coach at the age of 38. That's still young by NFL head coaching standards, but 38-year-old Kyle Shanahan is a ways behind Sean McVay of the Rams, who is the youngest head coach in the NFL.
The NFL's oldest head coach is Pete Carroll, who was born about eight months before Patriots head coach Bill Belichick.
Using Week 1 as our starting point, the average age of NFL head coaches in 2018 is 51 years old. That shows a significant dip from 2016, when the average age of head coaches was 53.4 and 2017, when the average age was 52.5.
Could the average of NFL head coaches dip even further in 2019? It's certainly possible with coaches over the average age on the hot seat including Hue Jackson, Dirk Koetter, Jay Gruden, John Harbaugh, and Todd Bowles.
Photo courtesy of USA Today Sports Images.
Follow @PFRumors