Months after the NFL passed an anthem policy without players' input — one that appeared to reignite the issue and please few in the process — the NFLPA's grievance caused the league to pump the brakes on it. Now, the old policy is in place after the NFL and the union agreed to resume talks on the issue.
Some new developments surfaced Friday. Dolphins owner Stephen Ross attempted to navigate the PR damage his team's anthem policy — potentially a four-game suspension for players who kneel during the song's playing, news of which broke before the NFL-NFLPA's joint statement emerged Thursday night — by saying this course of action was merely a placeholder.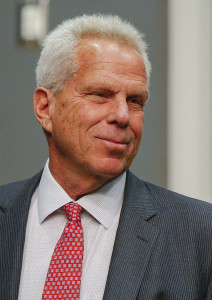 "We were asked to submit a form to the NFL on our overall discipline policy prior to the start of the rookie report date. The one-line sentence related to the national anthem was a placeholder as we haven't made a decision on what we would do, if anything, at that point," Ross said in a statement (Twitter link).
Giants co-owner Steve Tisch also discussed this issue, coming out on the players' side of the discussion. Tisch said, via Marc Malkin of the Hollywood Reporter, Giants players will not be disciplined for protesting during the anthem. However, it's not known if the Giants' better-known co-owner, the influential John Mara, is fully on board.
"We support our players," Tisch said. "They are not going to be punished. There is not going to be any punitive action taking place against them."
President Donald Trump (Twitter link) resurfaced with thoughts on this issue, which has become one of his frequent talking points. Perhaps rhetorically, Trump asked if it was "in contract that players must stand at attention, hand on heart?" No such language exists in any player's contract. Trump also suggested the NFL first suspend players who kneel during the anthem before calling for Roger Goodell to suspend protesters without pay for the season were they to do so a second time.
The Dolphins' leaked placeholder policy did not prompt the sides to issue their joint statement Thursday night, Mark Maske of the Washington Post reports, adding both sides hope this resolved before Week 1. Maske reports an arbitrator also was not required to produce Thursday's statement scrapping May anthem policy, pointing out the league and the union have engaged in dialogue since the June grievance emerged.
The NFLPA, not the Players Coalition, is overseeing the talks with the NFL this time, Maske reports.
"I know there have been conversations about the grievance. But in terms of sitting down to talk about a resolution with players being involved, there hasn't been anything yet," Bills linebacker Lorenzo Alexander, part of the NFLPA's ruling executive committee, told Maske. "That's the whole purpose, to have some face-to-face conversations about this. That's what's in the works now."
Photo courtesy of USA Today Sports Images.
Follow @PFRumors