The NFL and the NFL Players Association have issued a joint statement indicating the league will no longer enforce the national anthem protest policy introduced in May. which required all league personnel to "stand and show respect for the flag and the Anthem."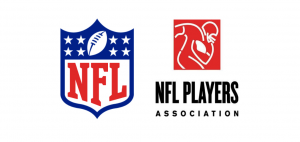 "The NFL and NFLPA, through recent discussions, have been working on a resolution to the anthem issue. In order to allow this constructive dialogue to continue, we have come to a standstill on the NFLPA's grievance and on the NFL's anthem policy. No new rules relating to the anthem will be issued or enforced for the next several weeks while the confidential discussions are ongoing.
The NFL and NFLPA reflect the great values of America, which are repeatedly demonstrated by the many players doing extraordinary work in communities across to promote equality, fairness and justice.
Our shared focus will remain on finding a solution to the anthem issue through mutual, good faith commitments, outside of litigation."
The NFL announced its aforementioned anthem policy earlier this year, and it indicated players would longer be required on the field while the anthem was performed. If a player failed to stand for the anthem, his team would then be fined. The new rule also gave commissioner Roger Goodell the power to impose "appropriate discipline" on personnel who violated the stipulations.
The NFLPA subsequently filed a grievance, arguing that the rights of players were being violated, but that suit is now also on hold. The national anthem protests, which have ignited nationwide discussion as well as comments from President Donald Trump, were in the news earlier this week on two occasions. First, Titans defensive tackle Jurrell Casey said he would kneel for the anthem and accept any subsequent fines. And today, the Dolphins caused a fervor after classifying anthem protests under a "conduct detrimental to the club" umbrella.
Photo courtesy of USA Today Sports Images.
Follow @PFRumors