The Bills report to training camp July 26, but it's not certain LeSean McCoy will be there.
The matter of his possible involvement in a home invasion and assault of his ex-girlfriend continues, and the attorney for Delicia Cordon said her client "believes very strongly" McCoy was involved.
"She absolutely thinks Mr. McCoy had something to do with it," Tanya Mitchell Graham said in an email response to Jay Skurski of the Buffalo News. "She believes anyone else involved was likely contacted by someone else on behalf of Mr. McCoy."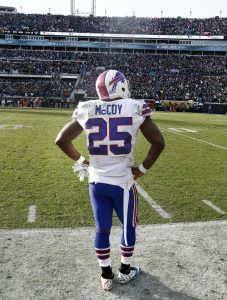 Skurski notes Graham wanted to clear up some confusion last week, when she said neither she nor Cordon had indicated directly McCoy was involved in an incident that left his ex-girlfriend badly bruised. Graham responded that her client still believes McCoy was involved to some degree.
McCoy, 30, denied he was involved, saying he was in Miami at the time of the invasion. But Graham previously said the assailant demanded specific jewelry items from Cordon, items Graham said were gifts from McCoy to his ex and items he'd demanded back on "many occasions." Court records over the past year show McCoy and Cordon argued over jewelry while additionally indicating McCoy attempted to have Cordon removed from the home and retrieve items that belonged to him. A police investigation is ongoing, as is an NFL inquiry.
An eviction hearing was scheduled to take place on Aug. 14, Skurski reports. Cordon has since moved out of the house, Graham said.
"I mentioned that I had a conversation with our client about the 'criminal burden of proof,' which is a higher standard than a civil burden of proof, and 'probable cause' – legal terms," Graham said, via Skurski. "At this time, there is circumstantial evidence, which is not significant enough probable cause for an arrest; so, I said you can't blame Mr. McCoy without additional evidence.
"This matter is under investigation, and we should allow the City of Milton (Ga.) Police and their detectives to do their job. I think either the way I said that, or the way it was interpreted caused some confusion to suggest that my client was backtracking. She is not. I was just trying to explain the legalities of the incident."
Due to the ongoing investigation, McCoy could be a candidate for the commissioner's exempt list. This would sideline him indefinitely from the Bills.
Photo courtesy of USA Today Sports Images.
Follow @PFRumors