Bears rookie linebacker Roquan Smith, the No. 8 overall pick in this year's draft, is one of only two first-year players from his draft class to remain unsigned. We heard several days ago that Smith's holdout is related to the new NFL rule that prohibits a player from initiating contact with his helmet, and Rich Campbell of the Chicago Tribune reports that is indeed the case.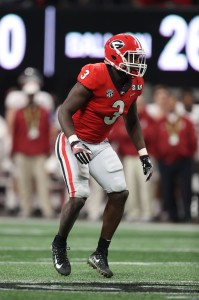 Smith's camp is concerned that, if Smith were to be suspended under the new rule, the team could reclaim his guaranteed money. Head coach Matt Nagy conceded that fear is "part of the issue," and four other sources confirmed that the new rule is at the root of Smith's holdout. Campbell also says that Smith's agents are asking the Bears to include in the contract a written assurance that the team would not go after any of Smith's guaranteed money if he were suspended under the new rule. The Bears, meanwhile, do not want to include such a provision, and they are instead offering oral guarantees that they would be reasonable in assessing disciplinary action by the league against Smith. Just last year, the Bears did not seek to reclaim any guaranteed money from inside linebacker Danny Trevathan after he was suspended for an illegal hit on Packers receiver Davante Adams, as they deemed the hit to be the result of a "normal football play" without malicious intent.
Dan Graziano of ESPN.com, though, says the holdup goes beyond the new rules concerning initiating contact with the helmet (Twitter link). In fact, Graziano asserts that the issue is not the new helmet rule, and that the real source of contention is actually language that allows the team to void guarantees for many different reasons, including team-imposed discipline. So while the new rule would seem to affect Smith more than most rookies given his position and his reputation for tracking and tackling ballcarriers, the impasse may run a little deeper than that.
Campbell reports that both sides appear unwilling to blink, so it is difficult to say when Smith will finally suit up (he will not, of course, participate in this week's Hall of Fame Game). Smith's representatives at CAA Football represent plenty of other rookies who are already under contract — including Bills linebacker Tremaine Edmunds, the No. 16 overall pick — so Bears fans will just have to hope that Smith and the team can find some sort of common ground as soon as possible (although CAA was able to get the written assurances it wanted in Edmunds' contract, Jason La Canfora of CBS Sports tweets that other teams refused to put in such assurances for CAA clients and deals got done anyway).
Smith's representatives could not be reached for comment, and Bears GM Ryan Pace has not been available to the media since July 19.
Photo courtesy of USA Today Sports Images.
Follow @PFRumors