Panthers defensive tackle Vernon Butler has been accused of assaulting a woman at a Dallas night club earlier this month, according to a report from WSCOTV in Texas.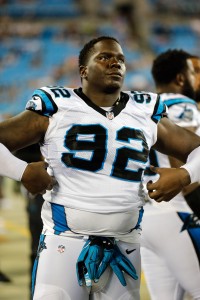 Butler had reached out to the woman via Instagram, but she'd rejected his advances, the woman's attorney tells Morgan Fogarty of WCCB Charlotte (Twitter link). When the two met at a Dallas night club two weeks ago, Butler was once again spurned, and allegedly responded by throwing ice at the woman's face. After the woman fell down stairs, Butler reportedly pushed her again, and though WSCOTV's report states the woman was escorted out of the club with a bruised face, her attorney tells Fogarty the woman had no visible injuries.
The Dallas Police Department confirmed they're investigating the claims, but no charges have yet been filed against Butler. Needless to say, Butler could face legal discipline if the allegations prove true, but Fogarty reports this offense would be classified as a "Type C" assault, the lowest level of assault. Butler could clear that charge by paying a fine, but the NFL itself could also issue punishment against Butler, regardless of whether he's found guilty.
Butler, 24, was a first-round pick out of Louisiana Tech in the 2016 draft. During his two-year stint with the Panthers, he's appeared in 24 total games but made no starts. Last season, Butler played on roughly a third of Carolina's defensive snaps, managing eight tackles in the process.
Photo courtesy of USA Today Sports Images.
Follow @PFRumors