Teddy Bridgewater hasn't shown the effects of his career-defining 2016 injury during his Jets stay just yet, and the team plans to play him extensively in its preseason opener Friday. While this will help the Jets determine where their free agent acquisition is at physically, it also could double as an audition.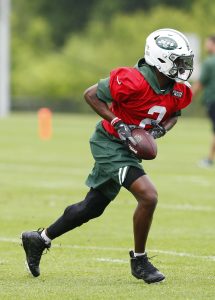 The Jets are open to trading Bridgewater, Manish Mehta of the New York Daily News reports, adding the circumstances need to be right.
For that to be the case, Gang Green will need to see that Sam Darnold is ready to take the reins. New York re-signed Josh McCown and added Bridgewater on the same day in March. The team wants to evaluate its No. 3 overall pick — whom Jets officials have repeatedly praised this offseason — during the preseason before pulling the trigger on a Bridgewater deal, Mehta reports. If Darnold impresses, the Jets are absolutely open to cashing in Bridgewater's one-year contract in exchange for a draft pick.
However, if the USC-developed passer needs more time, the Jets would not hesitate to start Bridgewater in Week 1 and keep his $6MM salary on the books, per Mehta. Darnold's been rumored as a viable candidate to open the season as the starter, but Bridgewater obviously has the experience edge and hasn't shown signs he's struggling physically.
"I know that's a question that comes up," Mike Maccagnan recently said about whether he'd trade one of his veteran QBs. "Any time you have a number of players that you like at a position, it's a natural thing (to think), 'Hey, they may have a — I'm not saying we have a surplus … but some teams carry two quarterbacks. (So) you have the ability to potentially (think), 'Oh, hypothetically we could do that.'
"But our big thing, quite frankly, is to see how all these players develop. We like a lot of things that Teddy's done this offseason. We obviously know Josh from having him last year and what he brings to the table. But I would say from that standpoint, it's very early. We kind of want to see how these guys still grow and develop."
Maccagnan also has said the Jets won't have an issue carrying all three of these veterans into the regular season. The team has $16MM in cap space.
Photo courtesy of USA Today Sports Images.
Follow @PFRumors