When Jon Gruden took over as coach of the Oakland Raiders, the writing was on the wall for GM Reggie McKenzie. Now there's more confirmation the two sides will be heading for a split, as Jason La Canfora of CBS Sports reports there is virtually no chance McKenzie is back in 2019.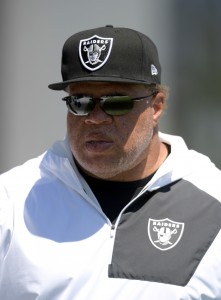 Sources told La Canfora it's a "near certainty" that there are "new decision-makers in place in Oakland well before the 2019 draft." The final nail in the coffin appeared to be the decision to trade away Khalil Mack. Comments made by both Gruden and McKenzie following the trade made clear that it was Gruden's imperative to deal the defensive end.
Gruden has been remaking the team in his vision ever since he became coach, and while nothing has been formally announced, it's been clear for a while that McKenzie's power has been reduced. Gruden will likely begin to bring in his own front office people shortly after the season ends.
It will be a critical and potentially era-defining offseason for Gruden in 2019. He'll be doing it essentially all on his own and will receive all the credit, and the blame, for whatever transpires. What he does with the picks acquired in the Mack trade will determine how the trade, and his decision making, are viewed down the line. McKenzie, a fairly well respected executive, should land on his feet with another organization sooner rather than later after he's eventually cut loose.
Follow @PFRumors