After an ugly loss to the Eagles on Thursday night, Giants head coach Pat Shurmur was asked if he would be making a quarterback change. Shurmur replied, "No. We believe in Eli (Manning)." But that did not do much to quell the rumors surrounding Manning's job security, and Jason La Canfora of CBS Sports writes that the team will inevitably make a switch at some point this season.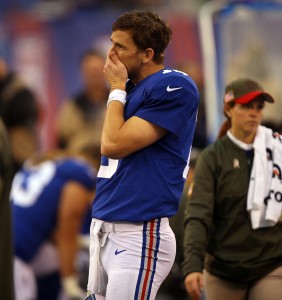 La Canfora adds that Manning's poor performance in 2018, which has included missing receivers even on basic screens and slants, has led to increased tension in the locker room. Players are reportedly frustrated with the lack of creativity on offense and the limitations that Manning's abilities at this stage of his career have placed on that unit. They also remain disappointed in the team's failure to grab one of the elite QB prospects in this year's draft, a decision that was criticized at the time but which now appears borderline irresponsible.
Star receiver Odell Beckham Jr. made a number of public comments earlier this month that earned him a fine from the team, but those comments were nonetheless quite telling. OBJ failed to support Manning, and La Canfora says that he was not just speaking for himself. Indeed, one source who has discussed the matter privately with various Giants players said, "[l]et's just say a quarterback change wouldn't be unwelcome."
Of course, without a top-tier prospect to turn to, it will be difficult for Giants fans to get too excited about the quarterback switch. After surprisingly waiving 2017 third-rounder Davis Webb before the start of the 2018 season, the team is currently rostering fourth-round rookie Kyle Lauletta — who has some promise but who does not have top-flight upside — and career backup Alex Tanney, who will turn 31 next month.
In any event, La Canfora believes there is almost no chance that Manning will be on the team in 2019, the last year of his current contract. After this season, New York could save $17MM against the cap by cutting ties with the two-time Super Bowl MVP, whose tremendous run with the only team he has ever known appears to be coming to an ignominious end.
Photo courtesy of USA Today Sports Images.
Follow @PFRumors