Sunday, 9:42am: It appears that this situation will blow over. Ian Rapoport of NFL.com tweets that Church was not actually arrested — Hayden, Wilson, and Harrison apparently were — but none of the four players were charged. London Police say the matter is "resolved."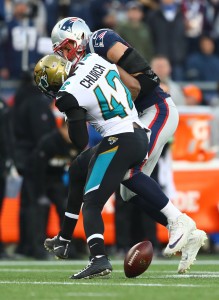 Rapoport says that the four men skipped out on a $64K bar tab, but that may have been due to a misunderstanding (video link). Apparently, expensive bottles of alcohol were being sent to their table, but they believed someone else was paying for them. They were therefore surprised when they were expected to pay.
In any event, it seems this incident will not have any impact on the team or the players moving forward.
Saturday, 9:15pm: The players arrested were Barry Church, D.J. Hayden, Jarrod Wilson, and Ronnie Harrison, according to Jason La Canfora of CBS Sports (Twitter link). All four players are defensive backs, which could explain why the team was so reluctant to name them in their statement.
Jacksonville is already shorthanded in the secondary and can't afford to be without both Church and Harrison, so they will almost certainly still play. Church, a safety, plays nearly every down while Harrison, also a safety, has seen his snaps increase in recent weeks. Hayden was already unlikely to play with an injury, and Wilson is a lightly-used special-teamer.
Saturday, 9:05pm: Online reports from British tabloids began circulating that four Jaguars players had been arrested ahead of Jacksonville's game in London, and now the team is confirming those reports, according to James Palmer of NFL Network (Twitter link).
The Jaguars released a very brief statement acknowledging what happened, which reads as follows: "We are aware that four of our players were detained over restitution of a bill. The matter is being resolved and the players are with the team. Any discipline will be handled internally."
The statement is very light on details, and it hasn't been reported yet which four players were detained. The original report from the British paper said the players were confronted by security at a nightclub and accused of trying to avoid paying their tab. While the team is clearly being intentionally vague, we should know more details soon. At this point, it's unclear if the players will still play in the game against the Eagles tomorrow.
No matter what happens, it's an awful look for a club that's been in disarray for weeks now, with the news breaking 12 hours before they're set to kick off. The locker room has reportedly turned toxic, with multiple shouting matches breaking out after their most recent loss. Blake Bortles was benched and is now on a very short leash, and this is the last thing the team needs.
The NFL has made expanding the game into the London market a major focal point in recent years, and the league office will likely be outraged at the optics. While the Jaguars have said any discipline will be internal, commissioner Roger Goodell may disagree.
Rory Parks contributed to this post.
Photo courtesy of USA Today Sports Images.
Follow @PFRumors