As the Browns continue to rack up losses, there's been more and more discussion about possible changes to the coaching staff. Things really started to heat up after last week's game, when coach Hue Jackson publicly questioned offensive coordinator Todd Haley. Jackson and Haley have done their best to downplay the feud, but it's clear there's some dysfunction there. Ian Rapoport vaguely hinted at possible changes that could be coming soon before the team's loss to the Steelers today, and now we have even more details.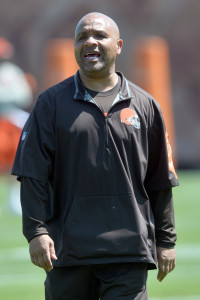 It's quite possible we see the "firing of offensive coordinator Todd Haley and/or head coach Hue Jackson, if the team continues to lose games" sources told Pat McManamon and Dan Graziano of ESPN. "Jackson and Haley have been at odds, and their respect for each other is not good enough for the team to be successful" a source said.
The source also added that "any decision the team makes would be with [Baker] Mayfield and his development as the highest priority" and that "it's hard to know which way Browns ownership would lean if it had to choose between Jackson and Haley." It'll be interesting to see who wins the power struggle between Jackson and Haley, and right now it seems totally up in the air.
While the two clearly don't get along, Jackson would have to go owner Jimmy Halsam in order to get Haley fired, and "Jackson has not yet brought it up" to the Haslam's, according to McManamon and Graziano. The article makes it clear that GM John Dorsey's primary concern is not harming Baker Mayfield, and he could ultimately decide that any in-season coaching change would be bad for Mayfield's development. There could be changes as early as this week, so stay tuned.
Follow @PFRumors