Le'Veon Bell's arrival window was believed to be in between the Steelers' Week 6 and Week 8 games. He remains away from the team, however, continuing a drama-filled year.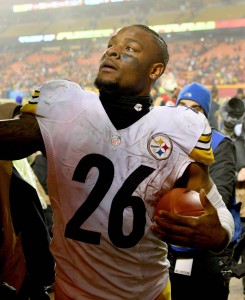 The Steelers have received interest from other teams regarding their holdout superstar and have barely a week left to trade him. Of course, Bell would have to show up and sign his franchise tender in order for that to occur, and he may not be interested in doing that.
With the purpose of his holdout being to maximize his 2019 free agency value, Bell does not want to be traded, Ian Rapoport of NFL.com reports (video link). The five-year veteran running back does not want to learn a new offense in a short time; he wants to return to the system he knows, deliver production down the stretch to set him up for free agency.
Some in the NFL would not be surprised if Bell shows up shortly after the 3pm Oct. 30 trade deadline, reporting to the Steelers in advance of their Week 9 game, per Rapoport.
Bell, in fact, will not report to the Steelers this week, Jim Trotter of NFL.com reports (Twitter link), giving this post-deadline arrival rumor legs.
The 26-year-old Steeler could do this and avoid being traded, and with another afternoon coming and going with Bell away from his team, a post-deadline arrival possibility increases.
Bell's agent, Adisa Bakari, spoke to the Steelers about the specifics of a two-week roster exemption, indicating perhaps his client is moving closer to a return. Art Rooney II also doesn't expect Bell will be traded. So, Bell may well not have a bridge team prior to free agency but instead use his presumably final Steelers stretch to finalize his offseason stock.
Photo courtesy of USA Today Sports Images.
Follow @PFRumors