Ha Ha Clinton-Dix is in his contract year, and he doesn't expect to be back with Green Bay in 2019. In a candid conversation with reporters, the safety indicated that he's in his final days as a member of the Packers.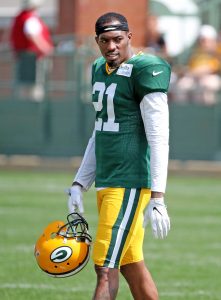 "Right now, I'm playing each and every game like it's my last. I don't think I'm going to be here next year," Clinton-Dix said (via Jason Wilde of the State Journal). "That's how I look at it. I just (have to) be honest with myself. You've got to play it game-by-game. Whether we're losing by 60 points, you've got to go out there and perform. This is my biggest interview of my career. So I've got to perform, regardless of what the record says."
The Packers are now 2-2-1 after falling 31-23 to the rival Lions. It's not the start that Clinton-Dix and the Packers had in mind, but they'll have a chance to get over the .500 mark when they face the 49ers on Monday night.
The fifth-year safety was retained for this season via the fifth-year option, which is paying him $5.957MM. He stayed away from voluntary OTAs in hopes of getting a long-term deal, but that never came together, and Clinton-Dix doesn't seem optimistic about that happening now. Clinton-Dix has come to terms with his future prospects in Green Bay, but he's far from unhappy with the team.
"I like [defensive coordinator] Mike Pettine a lot. He's given me a chance to fly around and make plays," Clinton-Dix said. "When guys are doing what they're asked to do, we don't look too bad out there. There are little mistakes we make, but other that, we're all having fun out there and once we all get in a rhythm and start catching interceptions, it's only going to bring us together. I'm actually having fun — regardless of what the record says — because of the defense and the way it is right now. We're going to get better. Once we get rolling, we're going to be hard to stop, if you ask me."
Clinton-Dix, 26 in December, is tied for the league-lead in interceptions with three. He also ranks as Pro Football Focus' No. 7 ranked safety through five weeks of the season, so he's building a strong case for himself as he approaches free agency for the first time in his career. A big payday could be in the Alabama product's future, though a repeat of this year's depressed free agent safety market could limit his prospects.
Photo courtesy of USA Today Sports Images.
Follow @PFRumors