Newly-anointed Heisman winner Kyler Murray will not be playing football for a living, as Ian Rapoport of NFL.com writes. Major League Baseball's Oakland Athletics selected Murray with the No. 9 overall pick of the 2018 MLB draft and handed him a contract that allowed him to play football for Oklahoma this year. However, Murray's agent, the one and only Scott Boras, told Rapoport that, once Oklahoma's season is over — the Sooners will take on Alabama in the College Football Playoff in a few weeks — Murray's contract commits him to the A's.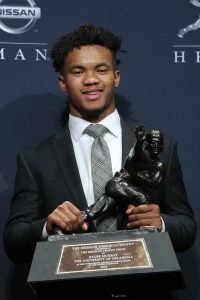 Of course, Boras has plenty of personal incentive to make sure that his prized youngster continues to pursue his baseball destiny. And, as a general rule, it makes more sense — from a health and financial perspective — for athletes like Murray to play baseball rather than football at the professional level. That may be especially true in Murray's case, as the scouts that Rapoport has spoken with suggest that Murray would be at best a second-round choice if he were to enter the NFL draft, and is more likely to be a third-round selection.
However, ESPN's Adam Schefter hears differently, and a GM that he has spoken with believes that Murray could be a first-round choice, especially in light of the success that Murray's predecessor at OU, Baker Mayfield, is having in his rookie campaign (Twitter link). Murray has expressed a desire to play baseball and football, though he concedes that such an aspiration is probably not feasible. Nonetheless, he seemed very much on the fence when asked about his future several days ago.
As Mike Florio of Pro Football Talk writes, Murray needs to firmly commit to football if he wants to be an NFL quarterback. But given his recent comments and his existing baseball contract, even if an NFL club was inclined to overlook his height (5-10) and make him a first-round choice, it would be hard-pressed to do so. The ever-increasing market rate for viable NFL signal-callers could make it tempting for Murray to eschew his baseball aspirations, but the smart money right now appears to be on his fulfilling his commitment to the Athletics.
If baseball does not work out, he could give the NFL a shot in a couple of years, though he would be facing a steep uphill climb at that point.
Photo courtesy of USA Today Sports Images.
Follow @PFRumors