Days after receiving a vote of confidence from head coach Jason Garrett, Scott Linehan is out of a job. The offensive coordinator has been dismissed, according to Ian Rapoport of NFL.com (on Twitter). Soon after Rapoport's report, the Cowboys made it official with a formal announcement.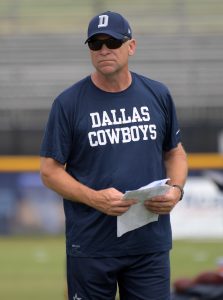 According to a statement from Garrett released by the team, this was a "mutual decision" between the Cowboys and the Linehan:
"This was not an easy decision because of how highly we regard Scott Linehan as a football coach and as a person. He and I had some really positive, substantive and open discussions which took place in the latter part of this week, and we ultimately agreed that it would be in the best interest of all of the parties involved if we were to make a change at this (offensive coordinator) position," Garrett said. "This was very much a mutual decision, and there was a great deal of common ground and shared understanding between both of us during our meetings. Scott has had an incredibly positive impact on our football team. He has been instrumental in the development and success of a significant number of our veteran and younger players. He is an outstanding football coach, a great friend and we wish him and his family nothing but the absolute best moving forward."
On Monday, Garrett told a local radio station that he did not foresee any changes to the coaching staff. Hours later, in a separate interview, he said that nothing was firm either way. Later, Jerry Jones did an interview of his own in which he made it clear that Garrett was not the one making the decision.
There were factors out of Linehan's control – including the absence of offensive line anchor Travis Frederick – but there's no way to sugarcoat it: the Cowboys offense underperformed in 2018. The midseason addition of wide receiver Amari Cooper opened things up, but the Cowboys ultimately did not have confidence in Linehan's ability to steer the ship.
The Cowboys averaged 343.8 yards per game in 2018, good for just 22nd in the NFL. They also finished tenth in rushing yards, which fell below expectations given the presence of Ezekiel Elliott and the team's reputation for having one of the NFL's best offensive lines.
Photo courtesy of USA Today Sports Images.
Follow @PFRumors