The Eagles are expected to place the franchise tag on backup quarterback Nick Foles, ESPN's Adam Schefter writes. That doesn't make the Super Bowl champion any more likely to return to the team, however, as Philadelphia will seek a third-round pick for his services in a trade.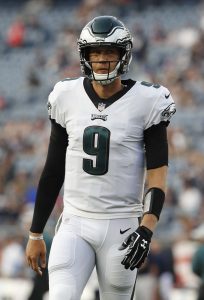 Before that tag is used, the Eagles are expected to pick up Foles' $20MM option next week. The quarterback then will have the opportunity to void the option by paying the team $2MM, which he is expected to do. The Eagles would then be expected to place the tag on Foles, allowing them to trade him to another team.
The long chain of events will culminate with the Super Bowl MVP more than likely suiting up for another team in 2019, assuming the Eagles can find a suitor willing to pay up for Foles. Several teams are expected to be interested in the six-year veteran, including the Jaguars, Redskins and Dolphins. With the process of events, Foles will likely have his choice on his landing spot.
Foles burst on the scene late in 2017, filling in for an injured Carson Wentz and powering the Eagles to a Super Bowl win over the Patriots, the team's first-ever Super Bowl title. He followed up that performance by again taking the reins from a sidelined Wentz and propelling the Eagles to an improbable run to the postseason and a spot in the divisional round after knocking off the Bears in the wild-card round.
Photo courtesy of USA Today Sports Images.
Follow @PFRumors