Broncos wide receiver Emmanuel Sanders is set to enter the last year of his three-year, $33MM pact with the Broncos, and he is due a $10.25MM salary in 2019. He will be 32 next month, and he tore his Achilles in December, but he has no intentions of reworking his deal, which carries a nearly $13MM cap hit next season.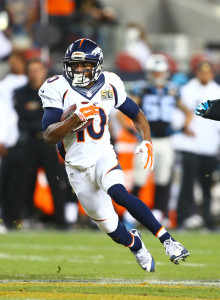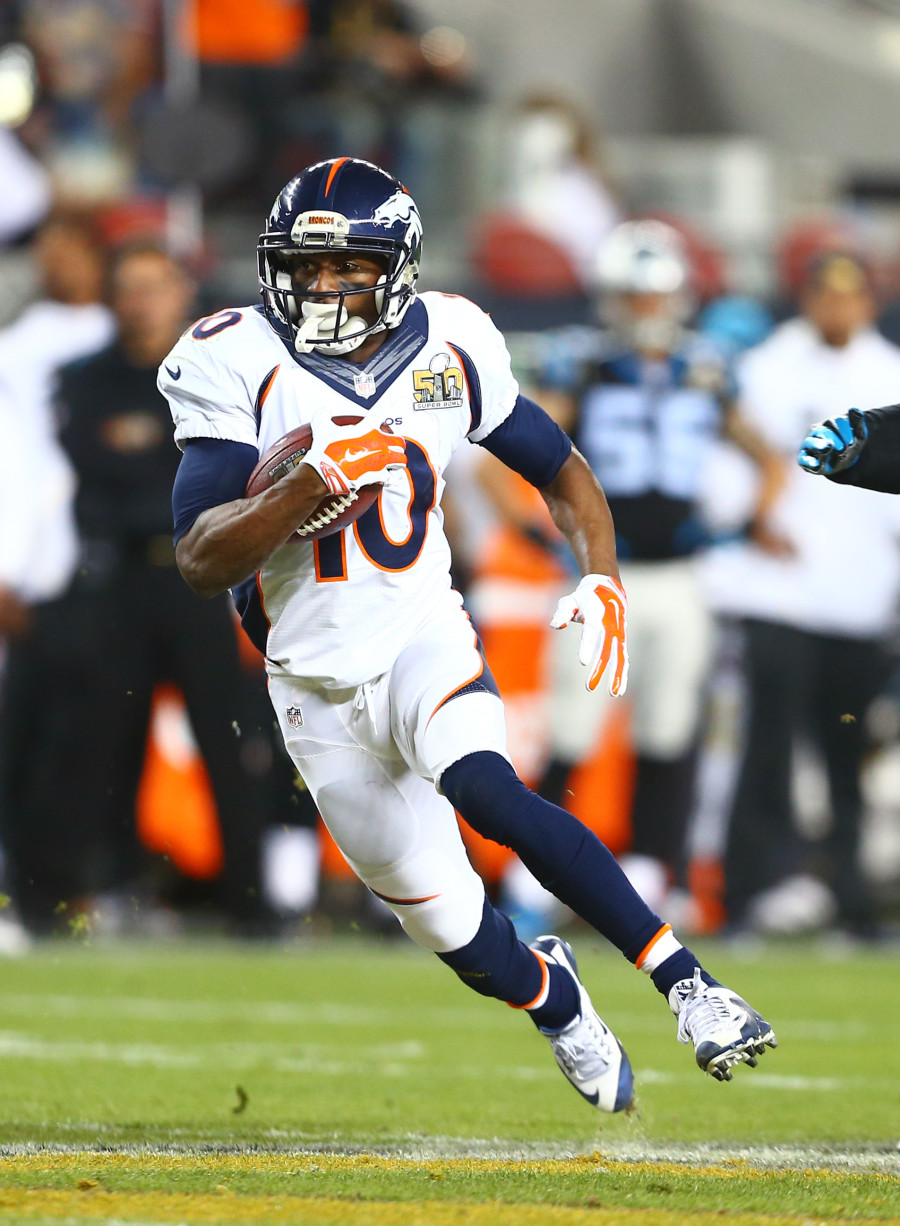 104.3 The Fan asked its Twitter followers today if the Broncos should approach Sanders about a restructure, and Sanders tweeted, "it ain't happening..no way Jose." Troy Renck of Denver 7 ABC sides with Sanders, saying that there is no need for him to rework his deal, and that it would be foolish for the Broncos to trade for Joe Flacco and then let a veteran receiver of Sanders' caliber go (Twitter link).
Of course, there is a difference between a restructure and a pay cut. Sanders clearly interpreted the hypothetical question as "should the Broncos approach Sanders about a pay cut," and if that's the case, then his stance (and Renck's) is certainly understandable. But perhaps the two sides could come together on an extension that would buy Denver a little cap relief and would result in a little more guaranteed money in Sanders' pocket (though the fact that he is rehabbing from his Achilles tear could mean, as Charean Williams of Pro Football Talk observes, that the Broncos will not be addressing Sanders' future for at least the next few months).
The Broncos could cut Sanders and save his full $10.25MM salary against the cap while eating his bonus proration of $2,687,500. But they are not really pressed for cap space even after they absorb Flacco's contract, especially since they are likely to cut or trade Case Keenum and save $11MM as a result. It seems more likely that they will simply wait to see how Sanders' recovery progresses and either approach him about an extension this summer or else let him play out the final year of his deal and see what happens in 2020.
In any event, we should have another update in the next couple of weeks. Mike Klis of 9News points out that, of Sanders' $10.25MM salary, $1.5MM becomes fully-guaranteed if the Broncos exercise his 2019 option, which they must do by March 12 (Twitter link). Klis presently expects the Broncos to pick up the option, though he concedes it is difficult to predict what GM John Elway will do.
In his 12 games last season, Sanders hauled in 71 catches for 868 yards and four TDs. He also rushed for a touchdown and threw a touchdown pass.
Photo courtesy of USA Today Sports Images.
Follow @PFRumors