Emmanuel Sanders will not pursue a 13th NFL season. The former Steelers, Broncos, 49ers, Saints and Bills wide receiver announced his retirement Wednesday morning (video link).
While Sanders has been with four teams since the start of the 2019 season, each used the versatile veteran as a starter. The SMU alum helped the 49ers, Saints and Bills venture to the playoffs, most notably trekking to Super Bowl LIV with San Francisco. Sanders' best statistical seasons came with the Broncos, whom he helped boost to a win in Super Bowl 50.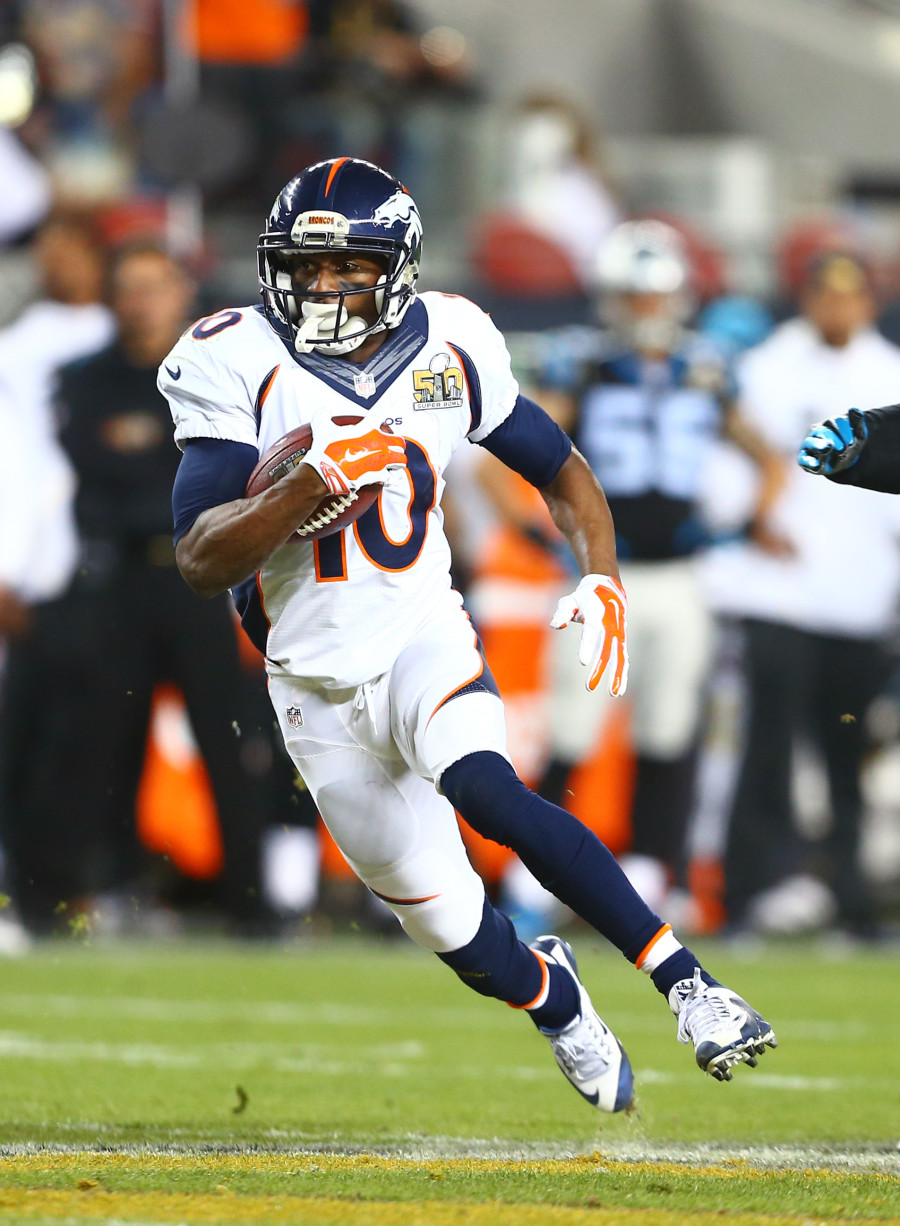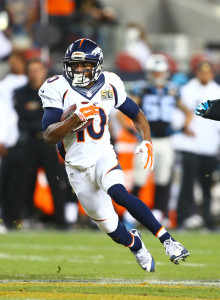 Sanders, 35, hinted at this possibility in February, after coming off another season as a regular starter. No known discussions took place about a second Sanders Bills contract, but the productive pass catcher was a 13-game starter for a Buffalo team that advanced to the divisional round. The hired gun's final season produced 626 yards in 14 games. That marked his lowest output since an injury-shortened 2017 season. Sanders will walk away a three-time 1,000-yard receiver and a two-time Pro Bowler.
Faring well as an outside receiver and in the slot during a career that included a host of memorable moments, Sanders also succeeded on the contract front. The Broncos gave him two deals — a free agency accord in 2014 and an extension two years later — with the latter pact worth $33MM over three years. Upon being traded to San Francisco ahead of the 2019 deadline, Sanders made an impact as a key supporting-caster with the 49ers. That work led to a two-year, $16MM Saints contract in 2020. While the Saints bailed on the deal after one season, Sanders caught on with the Bills via a one-year, $6MM deal.
The Steelers used Sanders in a supporting role during his rookie contract but paid Antonio Brown in 2012. While Sanders remained on the WR2 tier for most of his career, the former third-round pick was one of the NFL's top auxiliary targets for many years. His initial Broncos commitment — a three-year, $15MM agreement that came after the Chiefs nearly signed him — preceded a significant production spike. Replacing departed free agent Eric Decker in 2014, Sanders blew up for a career-high 1,404 receiving yards. He and longtime teammate Demaryius Thomas combined for more than 3,000 yards that year.
Although Peyton Manning's prime abruptly ended after that 2014 season, Sanders continued his midcareer boom as the five-time MVP declined in 2015. During Denver's Super Bowl-winning year, Sanders posted 1,176 yards. As teams focused on Thomas in the playoffs, Sanders (230 receiving yards during the 2015 postseason) became Manning's top chain-mover en route to the Broncos' third championship. That production led to Sanders' big-ticket extension on the eve of Denver's 2016 opener. The Broncos had Sanders and Thomas each tied to eight-figure per-year deals from 2016-18, and while each again topped 1,000 yards despite Manning's retirement giving way to Trevor Siemian's unexpected 2016 promotion, neither finished out their Broncos extensions.
Denver dealt Thomas at the 2018 deadline and moved Sanders in 2019. The Broncos collected third- and fourth-round picks for Sanders, who tallied 502 yards in 10 49ers games during that season's stretch run. With Michael Thomas' run of injuries beginning in 2020, Sanders was Drew Brees' top target in the future Hall of Famer's final season. Sanders will have retired playing with Manning, Brees and Ben Roethlisberger. It is obviously too early to declare Josh Allen a Hall of Fame-bound player, but Sanders' career featured some rather high-profile quarterbacks.
Sanders, who played in Super Bowls with three different teams, leaves the game with 704 receptions (52nd all time), 9,245 receiving yards and 51 touchdowns.