In a true sign of the times, Alvin Kamara found out about Christian McCaffrey's record-breaking deal as he was playing video games on a live Twitch stream. Kamara declined to make his case for a similar deal in real-time, but he did reiterate his desire to stay with the Saints for the long haul.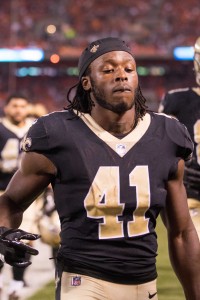 [RELATED: Panthers, Christian McCaffrey Agree To Record-Breaking Deal]
"I had never been to New Orleans until I got drafted by New Orleans, so just to be able to get to New Orleans and have that city embrace me, and just take me in, basically like adopt me, it's amazing," said Kamara (Twitter link via Bleacher Report's Master Tesfatsion). "There is so much love there. It's a dope city, outside of football. It's beautiful people. It's lit. It's alive. If we're talking about football, I've never been around a group of guys like in New Orleans that just want to win and just want to be there for each other and want to be around each other."
At one point in time, Kamara seemed poised to take the highest-paid RB mantle. The 24-year-old (25 in July) is still effective, but he's come back down to earth since his incredible rookie season. In his 2017 debut, Kamara torched opponents for a league-leading 6.1 yards per carry. Over the last two years, he's averaged 4.6 yards per tote.
Like McCaffrey, Kamara has proven himself to be an effective weapon both on the ground and through the air. Of course, he hasn't done it at quite the same level. His balanced production as a runner and pass-catcher is impressive, but it all pales in comparison to CMC, who has two 1,000-yard rushing seasons and over 2,500 career receiving yards.
With one year left on his original rookie deal, Kamara is eligible for an extension. You can expect the two sides to talk, though it might behoove both sides to wait things out.
Photo courtesy of USA Today Sports Images.
Follow @PFRumors